This week's newsletter includes:
Conan's Birthday


Conan's O'Grady Episode Free on iTunes


Conan at University of Buffalo


Andy Barker, P.I. Development Updates


Late Night in Chicago: May 9-12


Jon Glaser Temporarily Back at Late Night


Entertainment Mag Ranks 'Unsexy' Male Celebs


Weinberg speaks on rock gigs, tours


Comcast to Offer Late Night On Demand


Extras


Fan Story

Happy Birthday to Conan
Conan celebrated his 43rd birthday on Tuesday, April 18 in Chicago, Illinois. He was in Chicago to prepare for the upcoming week of shows in Chicago.
Conan's O'Grady Episode Free on iTunes
As of April 22, the first five episodes of
O'Grady
season two are available for free on
iTunes
(they'll be free for a limited time only). Conan provided the voice of Chip on episode 1 of season 2. Note that on iTunes the episode with Conan is called "Jerked". (On
The N website
, it's called "Frenched".)
Conan at University of Buffalo: April 22
Conan gave a speech at the State University of New York at Buffalo on Saturday, April 22. He was the
undergraduate student choice speaker.
Article about the event in
The Buffalo News
:
Conan delivers a seriocomic 'idiot's delight': Life lessons at UB from late night host
Article in
The University at Buffalo Spectrum
:
Andy Barker, P.I. Development Updates
Development Update: March 21-22, 2006
Futon Critic
Marshall Manesh (Ranjit on "How I Met Your Mother") and Harve Presnell (Mr. Parker on "The Pretender") have both joined the cast of the Andy Richter-led comedy pilot, about an accountant-turned-private detective. Details on their characters, Wally and Lew respectively, weren't released. The duo join the previously cast Amy Farrington and Tony Hale in the NBC Universal Television-based half-hour, which comes from executive producers A.J. Morewitz, Conan O'Brien, David Kissinger, Jonathan Groff and Jeff Ross. Jason Ensler is directing from a script by O'Brien and Groff.
Development Update: March 30, 2006
Futon Critic
Ion Overman (Viviana on "Love, Inc.") has joined the cast of the comedy pilot. Her involvement is likely in second position to her duties on the UPN comedy.

Late Night in Chicago: May 9-12
"Late Night" is taking the show on the road for a week of shows at the
Chicago Theatre
on State Street from May 9 through 12. NBC appears to be sending out ticket confirmations by email the week of April 25-28, according to day of the week, as follows: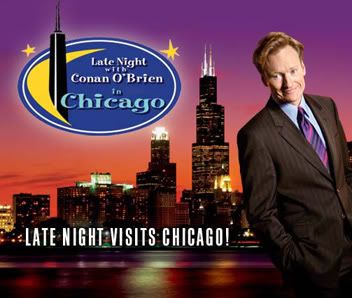 -Tuesday, May 9 show confirmations sent Tuesday, April 25
-Wednesday, May 10 show confirmations sent Wednesday, April 26
-Thursday, May 11 show confirmations sent Thursday, April 27
-Friday, May 12 show confirmations sent Friday, April 28
For official information about the Chicago shows, see the NBC website and the NBC press release.
A spokesman for the show said NBC has received 71,000 e-mail requests for tickets (and at two tickets per request, that translates to 142,000 people hoping to see Conan in Chicago).


For fans in the Chicago area: You can go to your local participating Chicagoland and Northwest Indiana Pontiac Dealer and ask for a Scratch 'N Win game card for your chance to win 2 tickets. Pontiac is giving away over 600 tickets. Official rules & a list of participating dealers can be found at the WMAQ website.


Conan, along with a camera crew and Mr. T, were spotted in downtown Chicago on Michigan Avenue on Monday, April 17 by a fan. Conan was probably in Chicago during the rerun week to shoot remotes for the Chicago shows.
Chicago lineup as of April 28, 2006:
Tu 5/9 from Chicago: Sean Hayes
We 5/10 from Chicago: Dave Chappelle, Common
Th 5/11 from Chicago: John C. Reilly
Fr 5/12 from Chicago: Wilco
Jon Glaser Temporarily Back at Late Night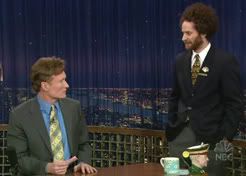 According to
Conologue
,
"Jon Glaser is back - for a little while. I stole this information from a long line of people who passed it down like a hot school girl rumor. The reasons are unknown, but Jon Glaser is indeed back at Late Night temporarily, rejoice!"
Entertainment Mag Ranks 'Unsexy' Male Celebs
MSNBC
April 6, 2006
A magazine in a Boston, Mass., has released its list of the most unsexy male celebrities. The Phoenix arts and entertainment alternative newsweekly ranked the "100 unsexiest men in the world."
As Conan mentioned on
Late Night
on April 25,
#85
on the list is Richie "La Bamba" Rosenberg.
Weinberg speaks on rock gigs, tours
Drummer speaks about experiences with Bruce Springsteen, Conan O'Brien show
The Observer
(University of Notre Dame)
By: Peter Ninneman
Issue date: 4/21/06 - Section: News
Max Weinberg was the star on stage Thursday at 8 p.m. in Debartolo Hall for a lecture on his experiences as drummer with Bruce Springsteen & the E Street Band and the Max Weinberg 7 on Late Night with Conan O'Brien.
Weinberg brought motivated his audience while evoking laughs in the process. The night started out with a short film of comedy skits from the Conan O'Brien show, including one with Weinberg reading a poem about murdering his neighbor and putting him through a wood chipper.
Weinberg also had some more serious words and spoke about the pursuit of dreams.
"Some people, and you bump into these kinds of people sometimes, call dreams a waste of time," Weinberg said. "Well, forget about those people."
Weinberg recalled the moment in his life he knew he wanted to play drums. It was 1956 and he was a five-year-old waiting for Elvis' debut on the Ed Sullivan Show with his teenage sisters. When Elvis' band started to play "Hound dog," Weinberg found himself playing along with the drums on the carpet, much to his sisters' dismay.
"It was absolutely amazing to me, and still is today, how Elvis and his band took over our living room," he said. "I've never been the same since."
Weinberg went on to play every gig he could get, including strip clubs and bar mitzvahs.
"Playing behind those strippers and bumping them, rimshotting bad comedians, that was good preparation for what I'm doing now," Weinberg said.
He caught a break in 1974 as a student at Seton Hall when he hit it off with Bruce Springsteen & the E Street Band in an audition that he found in want ad.
"This was the best band I had ever sat in with. I wanted that gig," he said.
The band soared in popularity with the 1975 album "Born to Run," the first actual album that Weinberg had ever played on.
Weinberg said the ten-year whirlwind of touring that he did with the band fulfilled his "rock n' roll dreams."
"I had the best seat in the house," he said.
To show the crowd what it was like to play in packed seats, Weinberg showed a video of concert footage set to "Born in the U.S.A."
"I had that Fu Manchu mustache," Weinberg said. "I offer that video as definitive proof that not everyone in the seventies looked like Ashton Kutcher."
In October 1989, Weinberg's life and career took a new direction when he got a call from Springsteen saying that he had been working on a new record and was going down a new path, and thanked Weinberg for his fifteen years of dedication.
"In retrospect... I probably shouldn't have been surprised it was over," Weinberg said.
He decided to go back to Seton Hall to finish his communications degree, which still required twenty-one more credits. To his surprise, they still had his account open, which he said probably meant that they knew he would be back when "the rock n' roll thing was over" and he got "his act together." They gave him credit for a book he had written, so only eighteen credits remained until he could receive his degree.
"I figured that was certainly doable over two semesters," Weinberg said. "What are you laughing about?"
He took the LSAT after receiving his degree but claimed he got an "unbelievably low score." Daydreaming out the window one day in a property law class, he said he saw "visions of freedom," and proceeded to leave the classroom and withdraw from the college.
"I became a statistic... I'm very proud to say I'm a law school dropout," Weinberg said.
Weinberg then got a job at a mail order record store, and worked a variety of jobs there for three years, until he was called up to tour with the band "10,000 Maniacs."
"I was becoming a drummer again," Weinberg said.
A short while later, he auditioned for the Broadway show "Tommy." Twenty seconds into his audition, the conductor told him, "Alright, you can be the second alternate sub."
"That was OK with me, suddenly I'd gotten a job," Weinberg said.
He was so excited that he called his wife to come visit him in New York City. On a walk after dinner, he came across Conan O'Brien.
"You just never know," he said. "Even with my little kid dreams, I never thought I'd have my own band with my name on the bass drum, playing on the Late Show."
Comcast to Offer "Late Night" On Demand
The Office, Law & Order CI and SVU, The Tonight Show with Jay Leno, Late Night with Conan O'Brien, Passions, Monk, Battlestar Galactica and More to Debut on Comcast's VOD Service
PHILADELPHIA and ENGLEWOOD CLIFFS, N.J., March 30 /PRNewswire/ -- Comcast Corporation (Nasdaq: CMCSA, CMCSK) and NBC Universal today announced that starting in May, they will begin adding more than a dozen of NBC Universal's most-watched broadcast and cable programs to Comcast's ON DEMAND video-on-demand (VOD) service.
Through this comprehensive agreement, the companies will make select NBC Network primetime, late-night and daytime programs available in Comcast VOD markets served by NBC owned-and-operated stations, as well as hit cable programs from USA Network, SCI FI Channel and Bravo, available on demand in all Comcast VOD markets. NBC Universal on demand programs on Comcast will include:
* Law & Order: Special Victims Unit
* Law & Order: Criminal Intent
* The Office
* Las Vegas
* Conviction
* The Emmy Award-winning Monk on USA Network
* SCI FI Channel's acclaimed original series Battlestar Galactica and Ghost Hunters
* Bravo's Celebrity Poker Showdown
* The Tonight Show with Jay Leno
* Late Night with Conan O'Brien
* Passions
NBC Network primetime programs will be available to Comcast Digital Cable customers as early as midnight following their broadcast for 99 cents each. Late-night and daytime shows will be available at no additional charge. NBC Universal Cable shows will be added to the ON DEMAND line-up in all Comcast VOD markets across the country later this year and will be available for the company's Digital Cable customers to view at no additional charge.
Full article at
Comcast website
.
---

Screen Caps
March 28, 2006
-- monologue, Lord of the Rings musical, Where's my kayak?, Queen Latifah, Tim Gunn
March 29, 2006 -- "Max's mom" door mishap & Conan laughing
March 30, 2006
-- Complete Vigodal Eclipse, Paget Brewster, Sausage Choir, Lord of the Rings Blue Collar tour musical
April 11, 2006
-- monologue, Conan at the desk, Hank Azaria, Mimi Rogers, P!nk
Jar Barf Channel
(April 12, 2006)
Videos from Recent Episodes of "Late Night"
Thursday, March 9, 2006
-
Where's My Kayak / Train?
(in response to "audience member" finding out he's missing the Finland episode and Matthew McConaughey)
Tuesday, March 28, 2006
-
Conan accidentally introduces the band as the Max Weinberg 5
-
Brian McCann stars in Where's My Kayak/Train after being told the Chicago shows will not be at the Goodman Theater
-
Lord of the Rings musical sketch
Wednesday, March 29, 2006
-
"Max's mom" (Lee Kheel) online for LN in Chicago tickets followed by the prop door not opening & Conan cracking up hysterically
-
Lord of the Rings Musical - Billy Joel style
-
Sue Johanson interview
Thursday, March 30, 2006
-
Complete Vigodal Eclipse
Friday, March 31, 2006
-
Conan Dancing with Antonio Banderas
-
End of the show credits - Conan playing with the camera
Tuesday, April 4, 2006
-
Comedy Spring Cleaning
-
Crooner Ghost
Wednesday, April 5, 2006
-
Where's My Kayak/Skateboard/Balloons
-
Jon Lovitz interview
Thursday, April 6, 2006
-
James Lipton recites "K-Fed Freestyle" lyrics & does a beer bong
Friday, April 7, 2006
-
Rachael Ray interview
Wednesday, April 12, 2006
-
Jar Barf Channel
-
Melissa Cross (scream expert)
Thursday, April 13, 2006
-
Conan's monologue with LaBamba's "NEXT JOKE!" in between all the jokes
-
Jarod Miller segment
Miscellaneous Late Night/Conan Videos
In the spirit of the March 29 door mishap, here is the
Y2K testing of the Robot on the Toilet
.
Conan stripping on his desk on LN, from the March 22, 2006 episode of Most Outrageous TV Moments on NBC. It's a video of someone's TV so it's not the best quality.
http://s17.photobucket.com/albums/b62/ClevelandRocker/?action=view&current=ConanStrips.flv
September 13, 1993 - Conan's first episode of "Late Night":
-
Part 1
-
Part 2
Pale Force starring Jim Gaffigan & Conan O'Brien
-
Part 1
(aired September 15, 2005)
-
Part 2
(aired February 1, 2006)
From the Evil Puppy's debut episode, January 6, 2006:
-
Conan introduces the Evil Puppy to the world
-
Evil Puppy gives Conan the blue card with upcoming guests
Happy New Year 2006
(compilation of clips from 2005 hosted by Conan, Max, Joel, Triumph) - from January 3, 2006
Bill Hader interview
- December 16, 2005
June 10, 2005 episode
with 2 of Conan's biggest fangirl guests - Christina Applegate, Regina Hall, Black Eyed Peas
September 30, 2004 episode
- James Spader, Amy Poehler, Kenny Hotz, Spencer Rice
Conan Hates Finland
- June 8, 2004
NYC Blizzard remote
- February 18, 2003
Guest Directors Sketch
- December 15, 2000
O'Brien's Court
(December 15, 2000) - with Conan, Susan Santomauro (Production Associate), Kevin Frank (graphics), Bruce Brumage (wardrobe), and a bear
Will Ferrell on Late Night – September 22, 1998
http://www.savefile.com/files/9178522
(Download button is at bottom right.)
Chris Farley on Late Night – either October 18, 1993 or January 14, 1994
http://rapidshare.de/files/16438582/conan.chrisfarley.19931018.avi.html
Conan on the Colbert Report - Monday, January 9, 2006
"The Denial Twist" music video by The White Stripes
---
How I Met Conan O'Brien!
Monday, August 15, 2005
By
Jessica Bentley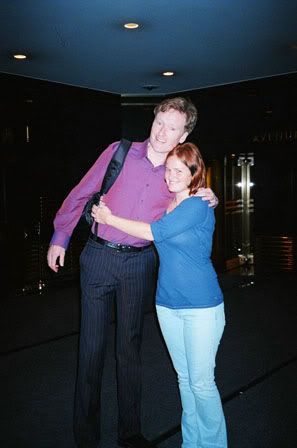 On August 15th 2005, I attended a taping of
Late Night with Conan O'Brien
. I arrived at NBC around 2:00 pm and was with my mom and sister. There were about 4 people in front of us which was really good, so I knew I would be in the front row.
Around 4-4:30pm they started to let us in. We got through security and into the elevators. When we entered the studio, my first thought was "it's so small." I have read that a lot, but I never knew just how small. Brian came out to warm us up and then Max and the Max Weinberg 7 came out and played a few songs. Then Conan came out!! He is so tall! He is 10 times hotter in person.
After Conan warmed us up for the show, he went behind the curtain and the show started. The show was fun -- Steve Carell was on, so you know the show was funny.
After the show we left and went back downstairs to wait for Conan. Once there, my mom, sister and I waited and it wasn't long (about an hour) and then Conan came down!!! I was so excited!! I got a picture with him and he signed my Rolling Stone magazine!! I will never forget this and I hope to meet him again!!
Before the show while waiting in line I was talking to a guy who works there. I think he does the NBC studio tours, and he told me where to wait for Conan after the show. You go down the elevators to leave the studio and then walk down the hall. There is another pair of elevators and above the doors it says "Avenue of Americas". The elevators are on the west side of the building.
---
Please email
stephwearsshades@aol.com
if you want to contribute one of the following things to our newsletter:


Fan story/experience (& pictures pertaining to Conan and/or Late Night)


Fan Art


Conan News you feel we'd benefit from hearing about


If you're interested in becoming an Episode Recapper (We're extremely understaffed in this department, ALL help is appreciated!)


Your application to become Fan of the Week (Look in the community userinfo for more information)
Also e-mail stephwearsshades@aol.com to get a weekly e-mail with a direct link to the newsletter if you don't have a LiveJournal or you don't check your friends' page often.
---
*Conan-OBrien.net screen caps by
conansgoddess
*LN guest schedule provided by http://www.interbridge.com/lineups.html#LN
*Compiled and edited by
conansgoddess
---
Feel free to comment/make suggestions