June 20-23 and 27-30 Episode Recaps
June 20-23 and 27-30 Episode Recaps
Date: Tuesday, June 20, 2006
Guests: Alan Cumming, Henry Winkler, All American Rejects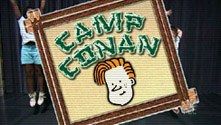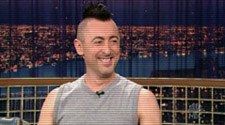 It was a summer tea party on Conan last night. He brewed a steaming monologue and the laughter flowed with such observations as these:
DirecTV is offering a new plan to subscribers in which they can get every channel and 10 free DVRs to record them for $7500. It's called the "Die Indoors and Alone" Plan.
Nestle has announced plans to buy Jenny Craig. A spokesman for Nestle said "We're gonna shut that bitch down!"
During the "Late Night Gears Up for Summer" segment Joel melted in his unair-conditioned booth and a dog ate him.
Guest Alan Cumming, sporting an impressive mohawk, discussed his starring role in The Three Penny Opera on Broadway. He noted that he has had to wear tight fitting clothes for his role, and his "package" has gotten better reviews than he has. One reviewer said it looked like he had a "tea set for two" in his pants. And a couple of buttered scones, as well, I wonder?
The next guest, Henry Winkler, was confronted with an old Fonzie Doll and Conan asked why his doll was wearing a speedo under his clothes. Henry said it was because his package looked like a tea seat for two.
A couple of soggy tea bags later, the All-American Rejects came on with some good basic power pop and they even managed to name check Late Night at the end of the song.
-- redpompadour
Date: Wednesday, June 21, 2006
Guests: Adam Sandler, John Cena, the Subways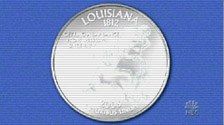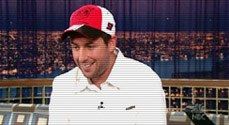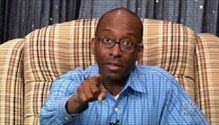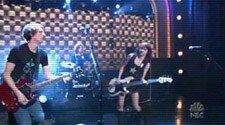 Conan served viewers a plate full of silly cakes, washed down with a big decanter of giggle juice. Check out these daffy delights from the monologue:
- Korea is planning to launch a missile capable of reaching the Western U.S. It is expected to land in California and open a nail salon.
- Britney Spears is thinking of starting her own magazine. It will be called "Ladies Mobile Home Journal."
- Paris Hilton is dating a hockey goalie, which makes sense, since they're both used to having a lot of rubber coming at them.
Or consider these mirth-filled morsels from New State Quarters:
- Alabama--Come hear the sound a man can make with his armpit.
- Virginia--See where Air Force One drops its poop.
- Maryland--We've got crabs.
- Florida--Don't call after 9 p.m.
- Louisiana--Getting a lap dance from Mississippi since 1817.
The show featured a sweet assortment of guests as well, starting with a tasty appearance by new dad, Adam Sandler. Since Africa was already taken, Sandler and his wife decided to have their baby in Antarctica. He gave a shout-out to anesthesiologist, Chilly Willy. Sandler said having a baby has given him a whole new perspective on life. Before he became a father, all he thought about was himself. Now all he thinks about is . . . the nanny. Adam said after the birth of the baby he emailed all his friends with a picture of the infant and the message: "I told you I wasn't gay!" And on that topic, he said he has TiVo, which intuits what programs it thinks will interest him. He said TiVo has 35 episodes of "Queer Eye" queued up for him. When he tries to delete them, TiVo replies: "You know you want these."
Next up was Pierre Bernard, comfortably ensconced in his recliner of rage. Tonight's rant was about bobblehead dolls. As soon as he began his spiel, my cable service had a disruption in service that miraculously was restored just as Pierre was finishing his tirade. I can only conclude that my cable company has a vested interest in the bobblehead trade. Was I mad? I was FURIOUS!
Wrestling superstar, John Cena, was the next guest to tangle with Conan and he showed up sporting a shiner that he initially claimed was caused by an enraged Pierre Bernard backstage. During the interview, Conan mentioned one of the show's writers left to write for World Wrestling Entertainment. Conan was later surprised to hear one of the writer's wrestling characters utter one of Conan's pet phrases, "Why don't you just have a big glass of shut up juice."
Once the silly cakes were devoured and the giggle juice consumed, Late Night celebrated with a performance by the Subways. Not just another token underground band, the Subways brought it all home with a vibrant performance.
-- redpompadour
Date: Thursday, June 22, 2006
Guests: Kate Beckinsale, Tyrese Gibson, Will Gadd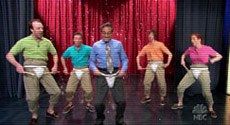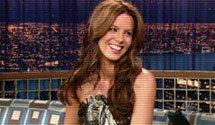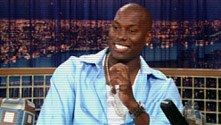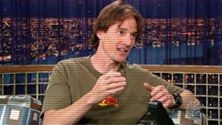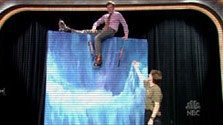 Hop on the chuckle train, we're bound for Giddy Gulch. First stop, Monologue Junction:
- President Bush attended the graduation ceremony of the Merchant Marine Academy and was hugged by a man who took six years to graduate. The man said President Bush is an inspiration to everyone who takes six years to graduate.
- Actress Angelina Jolie said she is thinking of adopting another child and she doesn't know whether it will be black, brown, red, or white. She's spending the weekend looking at swatches, hoping to find a baby that matches the drapes.
- Hillary Clinton's ratings in the polls are at their lowest point in over a year. Bill Clinton said: "If there's one thing Hillary can do it's bring poles down."
The U.S. soccer team was eliminated from the World Cup, and Conan had them on the show. The curtains opened to the sight of a blind man, a fat guy, an old lady in a wheelchair, a little girl, and (if my eyes didn't deceive me) Pierre Bernard in soccer shorts.
New Off-Broadway Shows featured musicals about The Hulk and Ann Coulter. "Infomercial: the Musical" featured an actor dressed as the Phantom of the Opera, called "Phantom of the Juicer." But the funniest bit was a parody of "Stomp," called "Cup: the Musical." Men (and even a woman) sporting athletic cups beat rhythms on their protective gear with drumsticks, led by Max Weinberg stringing together some mean paradiddles and ratamacues on his capacious cod piece.
If that didn't get you off and you decided to remain on the chuckle train, there was great scenery ahead in the person of Kate Beckinsale. She was not just gorgeous but funny as well. She said she hates to watch herself on the big screen. "I would rather have an enema," she said. And Conan fell out of his chair. Kate said she hates to see her big head and big teeth up on the movie screen because she looks like "a militant lesbian squirrel." Ah, but a very SEXY militant lesbian squirrel, I say. Conan said he, too, suffers from low esteem when he hears his high, squeaky voice (Bevis and Butthead on helium?) on TV. Then Kate mentioned she likes foot rubs. Conan said there's a certain spot in his arch that, when manipulated, takes him to nirvana and causes his pompadour to collapse. When Conan suggested she might have a foot fetish, Kate began to question her sexual proclivities and then, as if thinking out loud, said "Well, at least I don't need poo or poultry or animals" to get off. Then she mentioned a guy who got turned on wearing a speedo on his head. It was all very strange, and very funny. Conan congratulated her on her great American accent in her new film, "Click." Then Kate said how much she loved Conan's chimney sweep impression and he obliged her with a short sample before going to commercial.
Actor Tyrese Gibson, also visited the subject of physical beauty (or the lack thereof), saying he shaved his head at 16 because he was "maximum ugly" and needed to get into his "pretty." He said he doesn't believe in plastic surgery because "you need to get comfortable with your ugly."
Finally, iceberg climber, Will Gadd, taught Conan how to climb a glacier. He said it's a very dangerous activity because icebergs can invert while you're climbing them, yet he said he was drawn to the sport because the ice is like a beautiful public sculpture. "Then why don't you climb public scupltures, instead?" Conan suggested, noting there are many in New York. But come to think of it, just walking around New York City is dangerous. Climbing a sculpture would be totally crazy. During his climbing demonstration, Gadd gave Conan a helmet to wear. It was the size of a child's juice cup. It looked like a thimble on Conan's massive melon, so he tackled the prop iceberg (made of wood) without protection, and he conquered it in a manner that would make Sir Edmund Hillary proud.
This was one of the best shows of the year, just the ticket for anyone intent on a mirth-filled journey to Jokeville. Ten toots of the steam whistle.
-- redpompadour
Date: Friday, June 23, 2006
Guests: Thomas Haden Church & Bruce Springsteen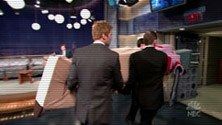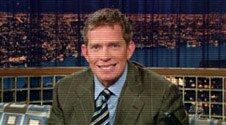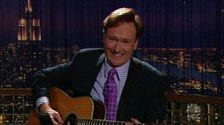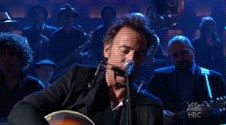 Act I
Beginning the show, Conan does his 'jump and spin' followed by the string dance. He does his usual banter with Max and comments on Max's pin-striped suit, saying it makes him look like a gangster. The monologue is a short one, consisting of only four jokes covering the following:
*The National Academy of Sciences saying this is the hottest the earth has been since time of Jesus
*George W. Bush bringing his wife Laura coffee in bed in the morning vs. Bill Clinton who sneaks back into bed in the morning
*Saddam Hussein's hunger strike ending after only one meal
*And the daily quotable: "Yesterday Florida governor, Jeb Bush, signed a new law making 'In God We Trust' Florida's official state motto. [scattered applause from audience] …ya, this barely beat out Florida's other state motto, 'Where Are My Teeth?'"
Conan then announces the guests and the Max Weinberg 7, saying to Max, "I believe you've met Bruce before…" (This is, of course, referring Max's many years as drummer for Springsteen's E Street Band.)
The MW7 play Conan to the desk with The Band's "Life is a Carnival", to which Conan comments, "Life is a carnival."
At the desk, Conan mentions the story of the arrest of seven men in Miami who were planning to blow up many different sites, including the Sears Tower in Chicago. He says this has upset one of their newest Late Night characters, The Sears Tower Dressed in Sears Clothing. Conan says they wanted to cheer up the character, so they send him out to walk across the stage with its own, "beefed up security". The security consists of four men dressed as secret service agents. They accompany The Sears Tower as it walks the length of the stage, then lift it up on its side and carry it through the doors, out of the studio. Conan begins laughing and says, "We were wondering at rehearsal, 'How's he gonna get through that door,' and we figured it out. Ingenious; we've covered all of our bases here." He then went on to make fun of the character's arms, imitating how they just loosely flail about, blaming it on the show's small budget. "No, we need that money here at NBC, to make
more
bad pilots," he says, impersonating the network execs.
Conan then changes subjects saying that even though there was not much time to waste that night, he felt it was important to take a moment and look into the future. Saturday Night Live alum, Jimmy Fallon, then pops out of the curtain asking, "The future, Conan?" The audience cheers loudly at the site of this surprise guest. "That's right, Jimmy Fallon," says Conan, "let's look into the future, all the way to the year 2000." The lights then dim and the stage is set for this classic bit with LaBamba's faithful falsetto send off of "In the year 2000…in the year 2000!" The segment consisted of ten jokes total. Two of my favorites were: 1) Fallon: "Starbucks will open their first store on Mars. Martians will object to paying 500 'gelmiks' for a six-ounce 'splurfnar'." 2) Conan: "White Sox manager Ozzie Guillen will again be accused of insensitivity toward homosexuals, this time when he calls his gay lover, 'fat'." At one point during the bit, Fallon begins to respond to one of Conan's jokes, to which Conan quickly snaps back at him, "Quiet!!" making the audience laugh hysterically.
Act II – Interview with Thomas Haden Church (promoting mini-series on AMC: "Broken Trail")
Conan first mentions Church's built-up body. Church responds that he had to get in shape for a small independent feature he's doing called "Spider-Man 3". "We're hoping we get distribution at some point," jokes Church. He says that the director of the movie told him he would have to gain about 100 pounds of muscle for the role. Conan then asks about the secrecy surrounding the film. Church says he's not allowed to say which arch-villain he portrays, but he
can
say that the villain's doppelganger is Flint Marko. Conan says that he's heard Church was playing the arch-villain, "Sandman". Church responds by saying he "may or may not be playing somebody that rhymes with 'hands-man'". The audience and Conan laugh. Church then talks about seeing Bruce Springsteen back stage. He says he was not cool at all when he saw him because he blurted out, "Son of a bitch; there's Bruce!!....It's Bruce, oh God!" "I took off my bra and threw it at him," he tells Conan. They go on to talk about the fact that Church is a full time rancher when he's not acting. Conan remarks that
he
is city-folk, making him good with a blade but bad at doing anything like ranching. He asks Church about wrangling cattle, wondering if he rides around on horse-back like traditional cowboys. Church responds saying that he basically just drives a pick-up around and honks the horn to get them to go where he wants. Conan jokes that the cattle just slide open the mini-van door and climb in. Church then teaches Conan how to call cows, saying you have to make a sound like "haaaw". They practice it then go to commercial.
After the break, Conan asks about Church's family. Church says his dad knew he was going to be on Late Night and asked him if he would do a public service announcement about a fundraiser he was having for his town's local library. Conan tells him to go ahead, so he looks into camera three and does a nice PSA for the Aubrey Area Library in Aubrey, Texas. When Church finishes, the screen cuts to NBC's "The More You Know" ad of a rainbow and star. The audience applauds. "That was nice. We did a good thing here," says Conan. They then go on to talk about Church's distinct voice. He says he was born without a velum, so anything that goes up his nose ends up in his lungs. He also says that his voice comes out of his face rather than just his mouth like most people. He and Conan go onto discuss it and then practice talking with their vocal chords completely relaxed, which is very quiet. Conan jokes that people will be tuning in at that exact moment, wondering what's wrong with their TV sets. They then show a clip from the western-set miniseries "Broken Trail". In the clip, Church's character is talking with a character played by Robert Duvall. They both look like cowboys. "Pretty flinty, pretty steely," remarks Church, after the clip. He says they filmed the series around Calgary, Alberta, Canada.
Act III – Mid-Show Funny
Conan decides to do a "public service" by helping out new parents who are trying to get their babies to sleep. He tells viewers to prop their babies up in front of the TV, then gets out his guitar and begins to play one of his famous lullabies. After singing a little, he tells the parents turn their babies away from the TV, as he begins showing some disturbing images. They included a charging bull, a train crashing, Connie Chung singing, a man on fire, and Britney Spears crying during her recent interview with Matt Lauer. The song ends in its classic form with "Bruce Springsteen will be out next. Mom and Dad, now go have sex; and watch me. Watch me..."
Acts IV & V – performances by Bruce Springsteen & the Seeger Sessions Band (promoting their album: We Shall Overcome: The Seeger Sessions)
The first song the band performs is "Bring 'em Home", a soft folk/gospel-like piece, not featured on their new album. Seeger Sessions Band members LaBamba and Pender play along and MW7 guitarist Jimmy Vivino joins in on the mandolin standing directly behind Springsteen. The lights are dim for this short, somber piece.
After a commercial break, the band goes directly into the next song, "Pay Me My Money Down". More lights shine on stage now as this song is much more festive. It is folk-jazz, sounding very much like something you'd hear in the French Quarter of New Orleans. All members of the Max Weinberg 7, as well as Conan himself, join in for this song! Max can be seen playing a small drum-kit, Jerry Vivino playing the clarinet, and Mike Merritt using shakers. Conan plays his acoustic guitar and looks a little more relaxed, having removed his tie. It is a casual, fun, energetic song, easy to sing along with. The audience loves it! Towards the end, you can see Jimmy Fallon join in comically playing 'spoons' and Thomas Haden Church with shakers of some sort. After several minutes, Springsteen speaks into the microphone, saying, "We're here tonight thanks to the fabulous Conan O'Brien show, on a mission to spread love and joy in the late night hours…" The song continues and Conan joins Springsteen at his mic to sing one chorus. He seems to be thoroughly enjoying himself! Soon after, the song comes to an end, or a break, at least. Conan jumps over to the center mic and sends off the show, saying, "Bruce Springsteen and the Seeger Sessions Band. Thank you very much folks; thank you very much." The song then continues for a few more choruses, then Springsteen finally ends by saying, "Thank you, Conan. Thank you, Max." The show ends and only corporate logos appear in the credits for lack of time. --This recapper says, "I loved this show!!!"
--
andyblitz4evr / Abby
Date: Tuesday, June 27, 2006
Guests: Hilary Duff, Neil Patrick Harris, Bonnie Raitt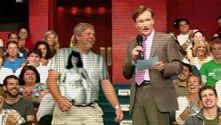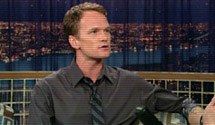 Act I
Conan begins the show with his usual jump, spin, and string dance. He tells the audience they're in for a top-notch program and has his usual banter with Max. The monologue consists of eight jokes, the first being my daily quotable:
*"Big news; yesterday in Florida airport security found a bottle of Viagra in Rush Limbaugh's luggage…so they held him up for three hours." The audience laughs and applauds as many of them can guess what the punch-line will be. Conan, sensing this, asks to have the joke's cue-card. "Jimmy, just give me the card…just give me the punch-line." He takes the card and holds it up for the camera to see. "Let's all say the punch-line together, shall we? [audience laughs] …'And then the Viagra held him up for
another
three hours!" The audience cheers him on as he proceeds to take a bite out of the top of the card. "eBay!" remarks Conan.
The remainder of the monologue covered the following:
*A storm in Washington DC knocking over a 100-year-old elm tree on the White House lawn.
*JK Rowling claiming one of the main Harry Potter series characters will die her new book.
*NYC police arresting 13 men for flashing their penises on the subway. Conan claims the investigation took only five minutes
*Warren Buffet donating $37 billion to charity
*Kevin Richardson's announcement that he will leave the Backstreet Boys
*A new study claiming the more older brothers a boy has, the more likely he is to be gay
*Rumor that Star Jones was pushed out of "The View" by the show's producer
Conan tells the audience they have a "Great show tonight, great show," then announces who the guests will be. The Max Weinberg 7 then plays him to the desk. I did not recognize the song they played.
At the desk, Conan goes immediately into the comedy bit. It's one I've never seen before, but looks like something similar to what David Letterman does on "The Late Show". Conan says that he is going into the audience to meet some audience members who claim to have unique talents. As he walks from his desk to the audience area, he drops his microphone repeatedly on the ground, causing the audience to laugh. He interviews seven people. They are as follows:
1)
Who
: A young man
Talent
: Imitation of Ethel Merman as a hockey goalie –
The young man is given a hockey mask from the Late Night staff. He then begins to flail about while a recording of Merman's "There's No Business like Show Business" plays in the background. Conan commends him on his talent but says Late Night cannot afford to give him a prize.
2)
Who
: A young man
Talent
: The power to move things with his mind –
The man begins to concentrate, and soon you can see the pants rip strait off of a cameraman. Conan is upset that he doesn't have a prize to give the man, so he asks who I assume is Jeff (Ross) and Mike (Sweeny), to find anything to give the audience members as prizes. They hand him a rundown of that night's show, which he gives to the talented young man. He then gives one to the first guy he talked to as well. "We didn't think about this at rehearsal," jokes Conan.
3)
Who
: A young girl
Talent
: Playing air guitar –
First the girl hugs Conan, causing him to growl at her. "I'm in trouble now," he says, "wife has TiVo." The girl then displays her talent as some heavy-metal guitar riffs play in the background. She really gets into it, kicking her leg in the air. Conan then takes the "guitar", tunes it up for her, and she plays it again. Her prize is the cue-card Conan bit out of in the monologue.
4)
Who
: A middle-aged man
Talent
: Ability to turn his body into a peep-show –
Conan pretends to put a quarter in the man's ear, and an old black-and-white video of a scantily-clad Bettie Page dancing around plays on the man's shirt. (I assume the man had been given a "green-screen" t-shirt prior to the show.) "You clearly haven't seen porn in a long time," remarks Conan. His prize is an opened, half-eaten bag of Ricola cough drops.
5)
Who
: A young man
Talent
: The ability to say, "My favorite TV show is Late Night with Conan O'Brien." in three different languages: Spanish, German, & Swahili –
They then do a Clutch Cargo with him, using other people's mouths to actually speak the different languages. He at first starts moving his head around during the bit, so Conan puts his hand on top of the guy's head to keep it still as the Clutch Cargo mouths are superimposed over his. His prize is a script from the night's show. "Show 2,248 - I always knew this would be the good one," says Conan.
6)
Who
: A young girl
Talent
: Ability to identify any Baha Men's song in one note –
They play a clip, and she guesses it's "Who Let the Dogs Out". They play two more clips. She guesses the same as before and is correct. She gets a box of tissues as a prize.
7)
Who
: A young man
Talent
: Expert marksman –
Conan gives him a pistol and tells him to shoot the quarter out of the hand of the "lovely assistant" on stage. He does so, then shoots an apple off her head, as well. For the third shot, he's to shoot a balloon out of her teeth. He misses and ends up shooting Max (Weinberg) instead. "It seems odd to reward you for killing a man, but here you go," says Conan, and hands him some Edge Shaving Cream.
Act II – Interview with Hilary Duff (promoting movie: Material Girls)
Duff first complains that her feet don't touch the ground while sitting in the guest chair. Conan remarks that they've got to do something about that, saying, "We went to like Crate & Barrel and bought the best one we could; gotta get a new one." Conan congratulates Duff on all her success in show biz. He asks her how old she was when she started and she says she was around age eight. She tells a story of a director expecting her to be knowledgeable of acting terms when she was young and how naive she was about them. Conan remarks that he too has no idea what they mean. He then comments on the huge following she receives wherever she goes, saying that even today at the show he couldn't believe the turnout of Hilary Duff fans. They then show a video of the fans, which is actually recycled footage from a bit they did in a previous show. In the clip, the camera pans a row of fans, mainly little girls, all very excited and holding Hilary Duff merchandise. Her song "Come Clean" plays in the background. When the camera gets to the end of the fan-line, however, you see announcer Joel Goddard wearing a tiny Hilary Duff t-shirt, holding a magazine with her picture on the cover, and saying, "I hope I get to meet her! I hope I get to meet her! Let the rain fall down; let the rain fall down, and wake my dreams..." They then cut to Joel in his announcer's booth dressed in the same outfit and surrounded by Duff photos. "Hi Hilary. I love you!!" he says. "Very nice, ya," remarks Conan, "A lot of Korean War veterans are behind you." He then asks Duff if she's ever had any crazy tabloid stories written about her. Conan says he doesn't know how
he's
avoided being in them, then remembers why, saying, "Oh right, I'm uninteresting." Duff says that a couple outrageous stories written about her included her burning down half her house with a toaster and one saying she had gone into her trailer during a movie shoot and refused to come out until she got a plasma big-screen TV. Conan says he's tried the same thing, but no one on his show cares enough to meet his demands. He then asks her about performing for President Bush, as she has done so twice. She says she was a little nervous because of all the important people in the audience and that Bush did not rock out during the concert, but he thanked her at the end. They then talk a little about "Material Girls". Duff says she filmed the movie with her sister, Haley, and that it was a great experience because they are best friends. The movie comes out later this summer.
Act III – Mid-Show Funny
Conan remarks that he was looking around the I-Tunes website and found that rapper MC Hammer has a new single, "I Got it from the Town" that is only available through I-Tunes. He plays a short sample. Conan says that even though it's not the best song, he's asking everyone to please download it because "It's 'Download Hammer' Time". [A graphic appears on the screen saying the song, with a photo of Hammer's head in the corner.] Conan says that he feels bad about having done so many jokes about Hammer in the past, so he wants to make up for it by promoting this download. He explains saying that if a thousand people download the song, it would put $999 in Hammer's pocket. He then goes on to explain how Hammer could increase his profits by investing and saving that money in different ways, such as stocks, buying shares of an Alaskan fishing boat, helping Donald Trump build a hotel/casino on protected wet-lands, and selling a nuclear warhead to Iran. At the end of all this, Hammer could have profits of $3.4 million which, Conan says, he will probably spend on a roll of custom made two-ply mink toilet paper, leaving him $0. "So please, download that song," says Conan, "and we can all start enjoying MC Hammer jokes guilt-free, because it's Download Hammer Time!"
Act IV – Interview with Neil Patrick Harris (promoting TV show: How I Met Your Mother)
Harris remarks that he's been on every talk show, including Carson's, but this is his first time on Late Night with Conan O'Brien. "Hard to compete with Johnny, but we'll do what we can here," says Conan. He then asks Harris about filling in for Regis Philbin on "Live with Regis & Kelly". Harris remarks that it is so much harder being a host than a guest. He also says that he began speaking like Regis when doing interviews there. He then does a very good impression of Regis, making everyone laugh. Conan asks him about being voted "Sexiest Come-Back" in People Magazine. Harris doesn't really seem to care that much about the title, while Conan explains that if it had been given to
him
, he would have the magazine laminated to his bare chest. Harris says he thinks the title has less to do with his 'sexiness' and more to do with the fact that he has a new show on the air and a highly-paid publicist. "You are not gonna fit in in Hollywood…," jokes, Conan. A few moments later, Harris is interrupted by a loud noise sounding like something heavy being dragged across the floor. "What was that…what the hell was that?" asks, Conan. He bangs the big microphone on the desk. "Was it one of our mics feeding back?" he asks, then takes the mic. on his tie, puts it into his nose, and breaths into it a few times. They figure out that it was one of the amplifiers back stage. "That goddamn Bonnie Raitt," says Harris, bringing many laughs. Harris then goes on to tell Conan that in the opening credits of his TV show, there is a shot of him in which he looks exactly like Conan. They roll a clip and freeze on the shot, which is of Harris wearing a suit and tie with his mouth wide open, sticking his tongue out. The audience cheers in approval. Conan disapproves, saying, "That was horrifying for me! Well, you're never coming back…" Finally, Conan asks Harris about his part in the movie "Harold and Kumar go to White Castle". He talks a little about his deviant character in the film, receiving many cheers from the audience.
Act V – Performance by Bonnie Raitt (promoting album/DVD: Bonnie Raitt and Friends & June 28 performance at Central Park SummerStage in New York City)
Raitt and her band perform a very blues-sounding song. She plays an electric guitar and is accompanied by two other guitarists, a drummer, and a pianist. At the end of the song, Conan thanks the group and goes to commercial.
After the commercial, Conan thanks his guests, the Max Weinberg Seven, and signs off with his, "Bye everybody, goodbye". The number (212) 664-3056 appears on the screen for tickets. (Note: This episode appeared in the "old" format of having a commercial at the end of the third guest, rather than in the middle of Act II. The "old number" for tickets appeared, as well. I have no idea why this occurred for just this particular episode.)
--
andyblitz4evr / Abby
Date: Wednesday, June 28, 2006
Guests: Kevin Spacey, Todd Barry, Strays Don't Sleep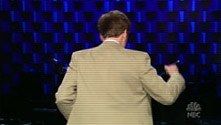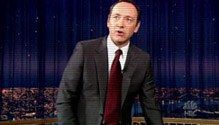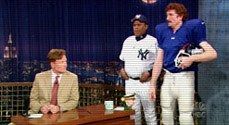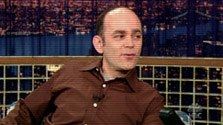 ACT 1
"And now... Here's your host: Conan O'Brien!"
Conan enters, buttoning and unbuttoning his suit jacket. He jumps on the star painted on the floor and signals to the Max Weinberg 7. Conan jumps and spins, then licks his fingertips. He salutes the audience twice. Conan jumps out of the camera's view and rows his imaginary canoe back onto the screen. "We wasted a lot of time there, that was great," he says as the audience quiets. "Let's do a whole hour of that sometime. Me jumping around, the audience going wild. Full hour of that." He then continues by telling us that he has an excellent show planned for tonight. Conan asks, "Ready to go, Max?" "About," Max replies. "Let me know," Conan says, laughing. Conan then comments on the suit he's wearing: "Summer colors. I'm diggin' it. Anything to make me look more pale."
The jokes for tonight include the following:
1. Star Jones left the View. (fat joke)
2. President Bush wishes he had x-ray vision.
3. J.K. Rowling will kill two main characters in the last Harry Potter book. The title of the book will be Harry Potter and the Argument with O.J. Simpson.
4. Part of the IRS building was flooded from the rain. The bad news: part of the IRS building was
not
flooded.
5. Hummer owners are concerned about high gas prices. Conan then goes on to make fun of Hummer owners, stating, "Put more rainforest in my tank!"
6. BET held an awards ceremony. "Once again, my work was completely overlooked."
7. Paris Hilton was forced to pay full price for a Hilton hotel room. In his defense, the hotel manager said he had to factor in the cost of new sheets, pillows, and antibiotics for 9 bellhops.
8. Hillary Clinton joke about how she's a "caucus blocker".
Conan then proceeds to tell us who will be on the show tonight. He plays with his hair, asking, "Why couldn't I have been Superman? Oh, right, you need a body." The band then plays "Get Down Tonight" by K.C. and the Sunshine Band.
At his desk, Conan does the Clutch Cargo segment with Star Jones, Barbara Walters, and Rush Limbaugh. Clutch Cargo is when a famous person's picture is put onto a screen and someone else's lips are superimposed onto it to make the person talk. Some memorable moments from this segment are:
Barbara (speaking about how she didn't force Star to leave the View): The writing is on the wall, Conan. Literally. In big, red letters in her dressing room that said: Hit the bricks, bitch. Also, on her desk and her windshield. Wrapped around a rock, thrown through her living room window.
Conan: Star, it looks like you've put on weight.
Star: Well, you know what they say... the camera adds 50 pounds.
Conan: Isn't it, "The camera adds 10 pounds"?
Star: Not if you eat it!!
(She then begins eating a spoonful of ice cream. the only problem is the spoon only shows up where the lips are.)
Star: If I'm not on a show, I can let myself go!
Conan: You've had stomach surgery, Star. Isn't all this eating dangerous? (Star, in answer, spits out multiple stomach staples.)
Star: You got that right, honey child. Mmmm... a child dipped in honey. Doesn't that sound good? If you were a little more black and gay, Conan, I'd marry you in a second! You look good enough to eat.
Conan goes on with the interview, using words that double as names of food. "Ham-fisted, sugarcoated (mmm.. a sugar coated ham fist!), beef, spilled beans, life's not a bowl of cherries, water under the bridge". After he says water under the bridge, she says, "Mmmm...a bridge!" and blows up. Conan takes a sip from his mug and says: "I don't know what happened there. Star Jones thought about eating a bridge, then exploded."
"Rush Limbaugh" comes out next. He is here to discuss the recent scandal where Viagra was found in his bag. The lips have ice cream on it, and he licks it off quickly.
Rush: Using Viagra is patriotic! I'm white, the pills are blue, and they make my penis red! These colors don't run...prematurely! Conan, this country was founded on firm, steady laws. Back then, George Washington's teeth weren't the only wood he was packing. You didn't have to visit the Liberty Bell to marvel at a patriotic dong. Didn't have to go to Mt. Rushmore to see a rock-hard president. Millard Filled-More. Franklin Pierced. James K. Poked. Andrew's Johnson. As Rush goes on, Conan takes his mug and rests his feet on the couch, looking sexy and relaxed.
ACT 2
Kevin Spacey comes out; he plays Lex Luthor in Superman Returns. Conan and Spacey talk about who came to the premiere of Superman. "Shaq was there," Spacey says. Someone from the audience boos. "Did you just boo Shaq?" Spacey asks. "You are very brave."
Spacey: Shaq could actually play Lex Luthor. He would make a great Lex Luthor. If he could act.
Conan: Have you seen Kazaam? You must not judge a man until you have seen him play a rapping genie. It won 4 Oscars.
Conan and Kevin then go on to talk about Spacey's bald look for the movie.
Kevin: Do you think you could look good bald?
Conan: I tried it once. We have a picture. (picture comes up of Conan with bald head. He is very pale on a white background, making him look even more pale.)
Kevin: Don't show that because you're going to get Get Well cards.
After a commercial break, Conan talks to Kevin about how Kevin got to kick Superman's ass. Spacey said it was satisfying to be able to wipe that smug look off his face. They then show a clip from Superman Returns.
ACT 3
To announce who will be on tomorrow's show, two "athletes" who do local advertising come out. They make it sound really scripted, just like in those cheesy commercials where a business gets an athlete to sponsor their product. The athletes said things like, "I know I run for a lot TD's, but you'll be running to turn on your TV when you hear that tomorrow's guest is Orlando Bloom."
ACT 4
Todd Barry comes out next. His interview sounded more like a stand-up comedy monologue than anything else. His jokes sounded like he spent weeks thinking them up, and the questions Conan asked led right into a funny story/joke, which led me to believe that Barry had told Conan what to ask. He wasn't even talking to Conan, he was just talking to the camera.
ACT 5
Strays Don't Sleep perform. It's a 5 person, all guy band. The lead singer leaned his head so far back I could see his thoughts, and his nose looked like Lord Voldemort's. I thought it was a very good band, in all. The songs reflected hatred in the writer's life. After the performance, Conan came out and shook everyone's hand and ended the show with, "Bye, everybody. Bye!"
--
conangirl7 / Lisa
Date: Thursday, June 29, 2006
Guests: Orlando Bloom, Campbell Brown, Cheap Trick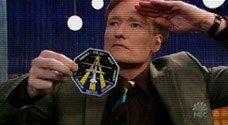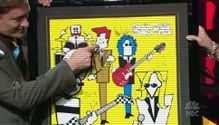 The monologue:
Conan commented on how tonight was the first time he's ever worn a brown shirt on Late Night (just thought I should mention that…it's a milestone!)


The Supreme Court said that President Bush over-stepped his authority at Guantanamo Bay, when appointing Captain Crunch to his staff.


Star Jones leaving The View


Conan sang a round of "I'm-a gonna go to hell when I die"


World Cup fans in Germany and their drinking habits


Britney Spears may be moving from Beverly Hills to Louisiana. Kevin Federline may move from the couch in the living room to the couch in the den.


Canadian scientists discovering a way to grow teeth in a laboratory.


The Hooters restaurant chain will no longer support an animal control fundraiser.


Conan wishes his name was Orlando: "Orlando O'Brien"
At the desk:
Conan mentioned that before the show, while he was talking to the audience, a man from NASA gave him a patch commemorating the next shuttle launch, which Conan said he was going to sew onto his jeans. Conan and the audience member had little stare-offs throughout the desk bit. Conan said that on the patch that he was given, it looks like "the shuttle is having sex with a helicopter during the birth of the baby Jesus."
Conan then presented some new mascots for the teams remaining in the World Cup, in a segment called "World Cup Mascots".
France: Wussant, the Surrendering Croissant (Conan actually mentioned that the costume for "Wussant" was actually the grub costume that was used a couple weeks back for the "Late Night safety instructions" bit)


Italy: Three Men Seeing an American College Girl


Switzerland: The Guy Who Plays Axel F on a Swiss Alpine Horn


Netherlands: A Sex Worker Smoking a Joint That's Wrapped in an Original Van Gogh


Mexico: Revenge-seeking Piñata


Togo: The Child Who Will Be Adopted by Angelina Jolie (after seeing this segment and calling 1-800-555-0199).
Angelina does call, and she doesn't adopt the child. It makes everyone sad, and Conan says, "The audience makes it seem as if we just shot a kitten…oops! I just gave away the Friday show! You gotta N-B-See it!")


Sweden: Death Trying to Assemble a Chair from Ikea. (In Swedish, Death says "It always takes twice as long as they tell you."


Portugal: Marcello, the Portuguese Beach Bum. (During this mascot, the phone rings, and it's Angelina Jolie, saying that she would like to adopt Marcello)
The first interview: Orlando Bloom
Conan and Orlando discussed the World Cup and how it's a much bigger deal in England than in America. At one point, Orlando corrected Conan that there is no blue card in soccer, and Conan gave him a small piece of his mind. Also, they talked about how Orland was in the Lord of the Rings trilogy right after he got out of acting school.
After that short, annoying, little commercial break in the first interview, the two talked about Pirates of the Caribbean (author's note: Conan is the only person that I know who says "cah-rib-be-an" while talking about the Pirates movies. Just an observation). They talk about Orlando's roles in the films and a bit about Johnny Depp.
The second interview: Campbell Brown
During the short interview, Conan and Campbell talked about Campbell spending time with the President, Campbell's wardrobe, and Conan even mentioned that 'some guy named Bruce' (referring to Bruce Brumage) throws suits on him before the show, while Conan tries to fight him off. Conan also mentions that, like Campbell, he is a t-shirt and jeans kind of girl.
The musical performance: Cheap Trick
To wrap up the show, Cheap Trick performed a song off of their new album "Rockford". When they were done and Conan went over to thank them for their performance, Cheap Trick gave Conan a large album cover to their new album, but with Conan added in on the front of it. (note: In the drawing of Conan on the album, Conan had a really large chin…could it be a Jay Leno/Tonight Show reference?)
-- CrazyforConan / Laura
Date: Friday, June 30, 2006
Guests: Kate Bosworth, Tom Everett Scott, Arj Barker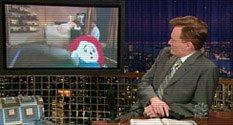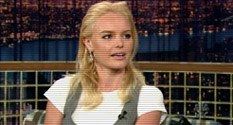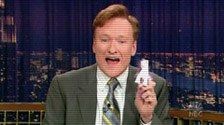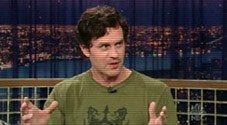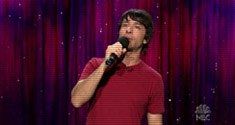 Act I – Monologue & Desk Bit
Conan begins with his usual spin, jump, and "Keep cool, my babies!" The monologue consisted of seven jokes, with the first being my daily quotable:
*"Astronomers say that this 4th of July, just as the fireworks are about to begin, the moon and Jupiter will be visible, side-by-side. When Americans heard this, they said, 'Cool! Now let's blow some crap up.'"
The remainder of the monolog covered the following:
*Newark, NJ cracking down on illegal fireworks
*Americans celebrating their independence from Star Jones this 4th of July
*Star Jones saying she still has Barbara Walters in her heart (This joke was followed by Conan singing, "I'm a gonna go to hell when I die" to which the audience immediately claps along.)
*7-Eleven announcing its own brand of house wine
*Lindsay Lohan & P. Diddy fighting over a table at a restaurant
*Senator Grassley of Iowa attempting to pass a law requiring pimps to pay taxes on their profits
After announcing the guest line-up, the camera-operator thinks Conan is about to introduce Max and starts to move over to the band. Conan laughs, saying to Max, "I almost faked out the camera. See it started to go to you? [laughs and points to the camera] Suck-a!"
Max Weinberg and the Max Weinberg 7 then get their
real
cue and play Conan to the desk with what I believe is Dave Edmunds's "I Hear You Knocking".
When at the desk, Conan and Max have a little impromptu stare at each other, as they do at the end of their 'Small Talk Moments'. Conan shakes himself out if it, saying, "I'm telling you, if we could bottle that chemistry... [Max laughs] we'd have a deadly, deadly nerve gas." Conan then goes into his first bit, where he shows the audience some of the channels from NBC's incredible satellite dish. He gets out his TV Guide and turns to a page with a conveniently placed pink card taped to the middle of it for him to read, then begins flipping channels. They were as follows:
*How They Got Star Jones to Leave "The View" Channel [This joke is again followed by Conan singing his "I'm a gonna go to hell when I die" song.]
*Silent Movies with Questionable Dialogue Channel
*Wildlife Feeling Guilty Channel
*Chocolate Smiles Channel [While watching, the theme is cancelled and changed to the Blueberry Pie-Filling Screams Channel.]
*Hell Community Bulletin Board Channel (my personal favorite)
*Raggedy-Ann Hallucination Channel
*Ukulele A-Hole Channel
Act II – Interview with Kate Bosworth (promoting movie: Superman Returns)
Bosworth tells Conan that she's very excited to be there, because Late Night is her favorite show. Conan then says that they will stop talking about Superman and talk about him, instead. They go on to talk about the film anyhow, though, with Conan asking her if she'd ever read the Superman comic books. She says she hadn't until she got the role of Lois Lane, and the thing she noticed most about the character in the comics was the largeness of Lois's breasts. "I said to the director, I see why you cast me, because of [my] likeness to the comic books," jokes Bosworth. Conan then asks her if she has nerdy fans following her around now that she's in a superhero movie. She says it's happened a little bit, but the 'nerds' are more interested in Superman than Lois Lane, so it's not too bad. He asks her about shooting the movie in Australia. She says that Sydney is now one of her favorite cities, as she lived there for around seven months while shooting the movie. Conan mentions that he was there during the 2000 Olympics and that he was shocked to see the amount of drinking done by the locals. Bosworth says she noticed the same thing and felt a bit taken aback by it, as well. Conan then asks Bosworth about her Lois Lane action figure. She says it's actually more like a Barbie doll than and action figure, because it just stands there. Conan asks if she had to have any measurements taken of herself for the doll. Bosworth says they had to produce a plaster mold of herself for the movie, so "they" (I assume the graphics department) would be better able to create the special effects for her character. For this, she had to be put in a full body cast, which she describes as "honestly the worst experience I've ever had." Conan asks who actually applied this cast to her, guessing it to be the comic book nerds again, which makes everyone laugh. They then go to commercial.
After the break, Conan asks about the scene in "Superman Returns" where Lois Lane is on a plane that is about to crash. He asks how she handled filming this scene, since she has a great fear of flying. She tells Conan she's very superstitious, so every time she gets on a plane, she has to enter with her left foot, then kiss her right hand and touch the side of the plane. Bosworth says that filming that seen was a bit like living out her worst nightmare. She says that to film it, she was put inside a recreated plane cabin on a gimbal and thrashed about. She was also on wires a lot of the time, which she says was cool at first, then extremely uncomfortable. She says she felt very sorry for Brandon Routh (the actor playing Superman), though, as he had to be on wires a lot more than she did. They then go to a clip from the movie, which shows a bit from the scene in the airplane they had just been talking about. Bosworth remarks that she thinks it's funny how her character doesn't have a scratch on her at the end of the scene. "Well that's Hollywood - the magic of Hollywood," says Conan.
Act III – Mid-Show Funny
Conan starts to introduce the next guest, when writer/performer Dan Goor comes out dressed as a page and holding a taxicab-shaped cookie jar. "Excuse me, ah, Conan," he says, "you asked me to let you know when your most recent cookie jar arrived?" Conan tells him to just put the jar in his dressing room with the other ones. Max (Weinberg) then interrupts saying, "Wow …I didn't take you for the kind of guy who collects cookie jars." Conan asks him what he means by that, and Max tells him, "You know; there's guys who collect baseball cards, and there's guys who collect cookie jars." Conan tells Max that he's very immature for what he's implying and a "man" in the audience agrees, yelling, "Ya, shut-up, Max! Don't deny who you are, Conan. If you like cookie jars, it's ok. … I love cookie jars and I don't care who knows it." (The man is actually writer/performer Brian McCann wearing a blonde wig, make-up, earrings, and fake eyelashes.) Conan tells the man that he's glad he likes cookie jars but that the way he's speaking implies that they have
other
things in common. A doctor in the audience, played by writer/performer Jose Arroyo, then interjects saying, "You know, Conan, with a few months of intensive therapy, I could turn your love of cookie jars into a love of baseball cards." "I don't love cookie jars, I just have a couple!" says Conan. Then another audience member, played by writer/performer Tim Harrod pipes in saying angrily, "It's unnatural, Conan! Old ladies should have cookie jars; old ladies, not young men: [holds up a Bible] Ephesians 2:16!" Yet another audience member, played by writer/performer Kevin Dorff, then speaks up saying, "Hey, no, no, that's a load of crap, buddy! I'm married, I have three kids, and I love cookie jars." "Well, see? Thank you," says Conan. "Of course," continues the man, "my wife doesn't know about it, and it's killing me inside…" The Bible-toting man interrupts yelling, "Sit down, you pervert!" Conan then tells everyone to just calm down, and that liking cookie jars doesn't mean he's gay. The "page" then comes back over to him holding a toy pony. "Excuse me, ah, Conan, but your My Little Pony just arrived." The camera then closes in on Conan while menacing music plays. It does the same with Max and the people from the audience, who all look horrified. The camera then goes back to Max who says, "Well maybe he can play with
my
little pony," and holds up his little toy pony for everyone to see. Harrod & Dorff do the same, while McCann's character tells them, "You're all freaks." "Take us away, My Little Pony! Take us away!" says Conan, ecstatically! Max, Harrod, and Dorff then join him on stage with their ponies, and they all enthusiastically play with them as they go to commercial.
Act IV – Interview with Tom Everett Scott (promoting TV show: Saved)
Conan first asks Scott if he has any July 4th plans. He says that since he will be in Vancouver, where his show is filmed, he won't be able to partake in any of the American holiday's festivities. He asks Scott if he ever played with fireworks growing up and he says that he used to play with cherry bombs and that he and his dad would blow up all kinds of stuff with them. Conan comments that he (and his family) used to build models when he was a kid and then put firecrackers under the wing of the model plane, or something. Conan then asks Scott about the fact that he got his start on the NBC soap opera "Another World". He said that he studied soap acting as a kid because that's all his sisters would watch. He says that in soap acting, a lot of times the key is to just stress the last word of whatever sentence you are saying. Conan then says that his favorite thing on soap operas is when someone clearly shows their real emotion then covers it up with opposite dialogue, and the character listening has no idea the person is lying. He gives an example making everyone laugh. Scott said that in "Another World", he played a bad-guy who was supposed to beat up another one of the actors. The actor, however, did not want Scott's character to win the fight, even though that's how it was written in the script. "We would be doing the fight and he would all-of-the-sudden put me in, uh, like a headlock," says Scott. Conan then asks him what first brought him to Los Angeles. He says he went there to do an after-school special called "Love in the Dark Ages" where he played a guy who gives his girlfriend Chlamydia. "That old story," jokes Conan, "they're always rewriting it." Scott says that his favorite part in the movie was the fact that because he played a swimmer, he had to have a body double to do the swimming scenes. He jokes that the actual swimmer looked nothing like him, being much more athletic and tan. Conan mentions that Scott's TV show, "Saved", airs Monday nights at 10pm on TNT.
Act V – performance by comedian Arj Barker
The audience seems to greatly enjoy Barker's act, and Conan tells him he was "hilarious". (I personally thought he was very funny and especially enjoyed his joke about Google.) As the credits roll, the clip from "Silent Movies with Questionable Dialogue Channel" plays again. The number (212) 664-6030 appears on the screen for tickets.
--
andyblitz4evr / Abby
---

Please email
stephwearsshades@aol.com
if you want to contribute one of the following things to our newsletter:


Fan story/experience (& pictures pertaining to Conan and/or Late Night)


Fan Art


Conan News you feel we'd benefit from hearing about


If you're interested in becoming an Episode Recapper (We're extremely understaffed in this department, ALL help is appreciated!)


Your application to become Fan of the Week (Look in the community userinfo for more information)
Also e-mail stephwearsshades@aol.com to get a weekly e-mail with a direct link to the newsletter if you don't have a LiveJournal or you don't check your friends' page often.
---


*Euuuge thank you to redpompadour,
andyblitz4evr,
conangirl7, and CrazyforConan for the recaps!
*Episode recap screen caps provided by http://www.latenighttorrents.com/forum/
*Edited by
conansgoddess
---
Feel free to comment/make suggestions