This week's newsletter includes:
Late Night Blog: Conan Island


Quotables from Conan's Monologues


Who's Behind Pale Force?


Episode Recaps: June 6-9, 2006


This Week's Schedule


Extras: Late Night Videos and Screen Caps
Late Night Blog: Conan Island
A
Late Night
fan and former film critic has been recapping episodes of the show since January in his
Conan Island blog
.
In the
first entry
, he explained: "My original idea was to rate, on a nightly basis, Conan vs. Letterman. But I soon realized that Conan out-performs Letterman 90% of the time. Letterman used to set the standard for tv talk shows but that was a decade ago. Nowadays, Conan is the benchmark, while Letterman languishes in a highly predicable format..... So, this is Conan vs. Conan, a review of each show, evaluating what worked and didn't work."
Quotables from Conan's Monologues
NBC Universal
- June 13, 2006
Huge win for the Yankees last night. Yesterday, Yankees outfielder Melky Cabrera made a spectacular catch against the leftfield fence to defeat the Red Sox. Experts say it's the first time all year a Hispanic man has been cheered for leaping over a fence.
Speaking of immigration, yesterday President Bush went to Nebraska and gave a big speech about immigration. Of course, to people in Nebraska, immigration means moving to Iowa.
Britney Spears announced that she recently hired a male nanny. When asked why, Britney said, "I want to show my son that a man can hold a job."
Over the weekend, big news, a thirteen-year-old girl from New Jersey won the national spelling bee. Of course, the girl from New Jersey had an advantage because the final word was "toxic contamination."
Next week, eighty-eight year Senator Robert Byrd will become the longest serving U.S. Senator in American history. When asked if he was still capable of conducting the business of the state, the eighty-eight year old Senator said, "I like lemons."
In a recent interview, Elton John said that he would like to be reincarnated as a woman. When asked what he plans to do differently if he comes back as a woman, Elton said, "Absolutely nothing."
It was announced today that the U.S. military dropped a bomb that killed Iraq's number one terrorist Abu Musab al-Zarqawi. Afterwards, President Bush said, "Oh great. I just learned how to pronounce his name."
According to the military, they got al-Zarqawi while he was hiding in his safe house. As a result, its been renamed the "not-so-safe house."
Brad Pitt and Angelina Jolie are denying rumors that they're going to get married. Apparently, both Brad and Angelina are hoping to find someone who's better looking.
Last night in Arkansas, two dozen people got sick after visiting an International House of Pancakes. Afterwards, the customers in Arkansas said, "That's what we get for eating at a fancy foreign restaurant."
According to a new campus study, iPods are now more popular among college students than beer. Experts say the trend won't last unless iPods make ugly people look good at 2:00 a.m.
According to US Weekly, Britney Spears has been telling people that she's fed up with Kevin Federline and plans to dump him soon. Her exact quote was, "I am going to drop him like a baby."
After the birth of their child, Brad Pitt and Angelina Jolie gave a press conference that was open only to reporters from Namibia. As a result, the first question they got was, "Do you have any food?"
It was an emotional day on "The View" because today it was Meredith Vieira's last show. Meredith was crying because she was leaving and everyone else was crying because Star Jones is staying.
It's been reported that in an attempt to save her marriage, Britney Spears recently hired a Christian life coach. After spending a week with Kevin Federline, the Christian Life Coach said, "Jesus, what a loser."
The Tony Awards, which honor the best plays and musicals on Broadway, will be broadcast on CBS on Sunday Night. There's no word yet on what straight people plan to watch.
In Los Angeles, Paris Hilton was spotted hitting another car in a parking lot and driving off without trying to find the owner. When asked about it, Paris said, "I'm not used to having my head above the steering wheel.
Pale Force
A fan in Israel named Harel found a story in a local
newspaper
about Jim Gaffigan's animation project involving Conan called "Pale Force." The article discusses the people who stand behind those animations, who are from Israel. Paul Noth (the man who came up with the idea for Pale Force together with Jim Gaffigan) sends them the text and characters list via email, and they create the animation movie in Tel Aviv and send it back when it is ready to New York.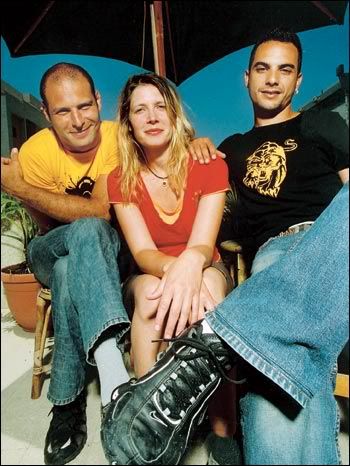 The 3 people who make Pale Force (L-R): Shahar Naor, Hadas Drechly, Roee Verner
The three episodes of Pale Force can be seen online at
jimgaffigan.com
.
---

Date: Tuesday, June 6, 2006
Guests: Eric McCormack, Famke Janssen, Drive-by Truckers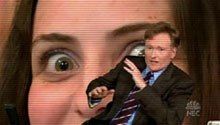 Act I
The show started out as usual with Conan's spin & jump, but no "Keep cool, my babies!" He commended the audience's cheers noting that it was enough for the whole show and he could leave now. He said hi to Max and commented on his suit, saying it was made entirely out of tin. "He melted down pennies and made a suit….can't move, but shouldn't affect his drumming." He then imitated the "tin man" moving his elbow and making a squeaky sound. The monologue consisted of six jokes touching on the following subjects:
*a man climbing over the White House wall, who Conan said ended up being the president himself trying to run away
*the president's speech on immigration in New Mexico
*the gay marriage amendment
*Congressman Patrick Kennedy returning to Rhode Island from rehab
*a man who was mauled to death by lions after climbing into their cage, and finally: *Quote: "A new article in Vanity Fair is accusing 'DaVinci Code' author Dan Brown of plagiarism, saying he copies entire passages of the novel from other books. Ya. [Audience boos] …Critics say this finally explains the chapter where Jesus attends Hogwarts School for Wizards."
Conan then introduced the guests. A funny moment occurred when he attempted to guess the number of years "Will & Grace" had been on the air. He consulted Jeff, "9…10??" Jeff said something inaudible, switching back to Conan who gave his final guess of 32 years. "Now please say hello to Max Weinberg and the Max Weinberg 7, Max!!!" "Conan!" da, ba, di da bop, bo….
At the desk, Conan first brought up the fact that LaBamba & Pender were not there. First, however, he confirmed that Max is one of the "7" in his band. An unintentionally funny banter took place between Max & Conan when Conan said, "Two of our musicians; two of the Max Weinberg 7… Ah, you're one of the 7. How does it work? It's Max Weinberg and the Max Weinberg 7…?" Max then very seriously stated, "Yes, and thank you for referring to them as
musicians
. Some people don't." The audience laughed as did Conan, who made a joke of it saying, "Wow! That was like an NBC
The More You Know
ad. They're called musicians! Remember that! The More You Know..." Conan made hand gestures to imitate the icon of the rainbow and star that usually accompany the ad, then added, "They've never asked me to do one of those. I wonder why…" Conan then introduced the band fill-ins. Seneca Black was in Pender's place and Clark Gayton was in for LaBamba. He then mentioned that the missing
musicians
were off touring with Bruce Springsteen and made a joke about them choosing Bruce over him as he (Conan) was "clearly the bigger star." He said hi to Jerry Vivino, the saxophone player in the middle of the newbies, stating that he wanted to say hi because Jerry got to sing tonight before the show when he doesn't usually, and he was also on camera a lot because of them having to show off the new people.
Conan mentioned that it was June 6, 2006 or 6-6-06, which is a little eerie to some people. One person in the audience wooed and was then made fun of by Conan for being a Satanist. So, to plunge the world into a billion years of darkness, Conan brought out the most depraved and diabolical creature to ever emerge from the fiery bowels of hell: the Evil Puppy. He may look cute, but don't be fooled; he's sitting on a throne of skulls and wants your soul. (Note: The Evil Puppy's song is called "O Fortuna" from Carmina Burana by Carl Orff.)
Next up was that famous talk show staple, Actual Items. They're real ads; you can't make these up. Memorable items included:
- An ad for a children's playhouse, with a little girl inside the house by the window and a little boy outside knocking on the door. The caption read, "Reenact the night Mommy locked Daddy out for whoring around." Afterward, Conan pointed to himself and declared, "It's happened."
- An ad for a sledgehammer: "The perfect way to 'redecorate' your ex-boyfriend's Camaro."
- An ad for a duster picturing several objects it can be used to dust: knickknacks, wood, electronics, and even grandpa.
- An ad for a weight loss program showing before and after photos, including one that showed "Conan lost 160 lbs." Due to the facial expressions in the pictures, Conan said he "went from ecstatic to depressed" after the weight loss.
Act II – Interview with Eric McCormack (promoting his play in NYC: Some Girls & TV Show: Love Spring International)
The interview began with Eric and Conan goofing around with the big microphone that sits on the end of his desk. They joked that they should do the entire interview speaking into it. Conan first asked Eric where he was living in the city. McCormack joked about how he went from Will & Grace to the West Village, "a very short journey", where he now lives, and that he got to learn about a new gay sub-genre called "Homo-Thug". Conan asked him about being featured in the NY gossip columns. McCormack made fun of his rumor because it was so lame. It consisted of him being naked in the shower at the gym - which he didn't find anything wrong with. Conan interjected with a story about his own gym, saying that there's always this one guy who walks around completely naked talking on his cell phone. Conan stood up and demonstrated, making the audience laugh by putting his foot up on the desk, while still "talking naked on the cell phone and using his BlackBerry." McCormack talked about his play "Some Girls", stating that it involves him and Fran Dresher stripping to their underwear and rolling around together during part of it. Conan asked if Eric ever worries about "getting excited" during those scenes. He said he almost does, but then thinks of Dresher's laugh and the "excitement" is gone. Conan and McCormack then imitated Fran's laugh and went to commercial to the Clash's "Train in Vain".
They began talking about "Will & Grace". Conan finally got his answer about how many years it was on the air when McCormack told him it was eight years. Conan asked if he took anything from the set. McCormack then made a couple of jokes about taking several pairs of underwear from Debra Messing & Megan Mullally. Conan then asked him about his friendship with Elton John. McCormack says that he was good friends with John's partner because he had gone to high school with him. He told a funny story about an Oscar Party at John's house. The censors had to "bleep" him as he quoted John. McCormack put in a quick plug for a new television show his production company
Big Cattle Productions
is producing for
Lifetime
. The show is improv-comedy called
Love Spring International
. McCormack ended with a joke into the big microphone: "Lifetime…it's not just for women anymore."
Act III (Reading of Upcoming Guests & Mid-Show Funny)
Conan came back from commercial complimenting the band, "…sounding good fellas…sounding
very
good…band's sounding better than ever…better than ever…" He then read off the guests for tomorrow night's show from a little blue card. For the "mid-show funny" a bit is repeated for, I believe the third time, where the camera repeatedly cuts away to someone in the audience as Conan gets "more and more angry" about the interruptions. This time it was a girl who looked to be in her late-teens or early twenties. They seemed to use more camera tricks in this one, ending with her face projected very close-up on a blue-screen behind Conan. The audience enjoyed the bit. The girl looked happy, but embarrassed, as she kept covering her face with her hand.
ACT IV (Interview with Famke Janssen - promoting the movie: X-Men, The Last Stand)
When she came out, there were "woos" and Conan remarked about how beautiful she is. Conan made a joke that the "woos" were for him and not her. Janssen talked about how she didn't have to move much in the new X-Men movie because her character's super power is "telekinetic abilities". Conan asked her how she liked shooting in Vancouver. She said she really enjoyed it, but a funny thing happened when she stumbled onto a nude beach and found Sir Ian McClellan "hanging out". She and Conan had a good laugh over it, but she told him that it wasn't too weird for her because her family often frequents "nude camps". She and Conan discuss that this is because of the fact that her family is from the liberal culture of Amsterdam. They then switched subjects, as Conan asked her opinion about the new James Bond film. She said she wishes that in the 21st Century they would go a different way, such as having a woman or a gay man in the lead. Conan says that he would put up the money for a woman James Bond movie, saying that he had saved up $25,000 over the years, which immediately made the audience laugh. He looked at them and asked, "I'm on at 12:30 at night; what did you think I would be putting into this?" They then showed a clip from X-Men with Janssen's character, Jean Grey, and Wolverine (Hugh Jackman) "gettin' it on". After the clip, they talked about how years ago "on Conan", Janssen demonstrated her James Bond character's ability to crush men with her thighs with Conan on top of his desk. Conan says that he "watches the tape every night and cries."
Act V (Band: Drive-By Truckers - promoting their CD: "A Blessing & A Curse" & Tour: beginning June 10, 2006)
The band had a "classic rock"/"modern country" sound to them. They sang a fast upbeat song, but the lyrics were difficult to understand. The band consisted of six members. Conan thanked them at the end, then ended the show thanking his guests and gave a "bye everybody, goodbye" send-off. They filled the last bit of the credits with the "mid-show funny" bit again. The number (212)664-6030 was displayed for tickets.
--
andyblitz4evr / Abby
Date: Wednesday, June 7, 2006
Guests: Luke Perry, Ludacris, Van Hunt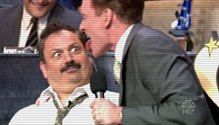 Can NJ spell "toxic contamination"? Robert Byrd, when asked about being the longest serving member of the U.S. Senate, said, "I like lemons!" One night Conan should just talk about the show and not ever get around to it--look for this to happen about the time that they do the show where Conan does the monologue and then throws to Max and The Seven, and then they jam out with Conan dancing with the studio audience and girls pirouetting in go-go cages for a full frickin' hour. (And for the record, I would so watch that show.)
By the way, has anyone else noticed that Conan often, if not always, comes out with his suit coat buttoned up the wrong way? As I learned several years ago, a man wears a suit, no matter how many buttons it has, with the top buttons buttoned and the bottom button unbuttoned. (Same goes for the vest.) So why does Conan button up the middle button but leave the top one undone? Has something changed in fashion without me knowing it?
A few nights ago a Conan rerun showed us that people just didn't know who Con_n O'Brien might be on Wheel of Fortune. On this show, the Jeopardy! answer/question was "In the Year [this]," and people thought 3000 and 2006? "Three geniuses," as Conan called them, couldn't answer the question/answer. "Cronin O'Ryan? Blate Night?" Conan remarked that they'll eventually have to change the name of that bit. Or will they?
Then Evil Puppy returned once again (take that, Evil Puppy detractors!) to plunge the world into 1000 years of darkness. When Evil Puppy turned his back to the crowd and looked back over his shoulder like a an O.C. hunky newcomer and then put his head down weakly on one of the arms of his grisly throne, the audience awwed, even though "O Fortuna" was clearly playing in the background. To which Conan replied "What do you mean 'aww'?....He wants to cast you all into everlasting perdition!" Then, oddly, the director cut back to Evil Puppy WITHOUT the Orff theme. It somehow doesn't work without "O Fortuna," kind of like the Masturbating Bear without Khachaturian's "Sabre Dance"--it's more sad than anything else. (That's right, Khachaturian's "Sabre Dance." Do you know how long it took me to find out the name of that song before Conan even made a joke about not being able to afford it on the show?)
Then came the latest round of Celebrity Survey. Or as a Jeopardy! genius would call it, "Celebrity Onion." That picture of Laura Bush in comparison with Katie Couric was Joker-tastic!
Before the interviews started, Conan joked around about the new guy who filled in for LaBamba on trombone the previous night while Pender and LaBamba were out with BRUUUCE! (BTW, the last time Bruce was on the show was memorably Christmas a couple of years ago when Conan played with the E-Street Band.) Conan remarked that the new guy was one of the best trombone players he's ever heard, prompting LaBamba to walk out of the show and sink into a life of drinking, selling his silver hat for money, living under bridges, fishing for food in the Hudson River, and eating his trombone. But when Conan burst into song--a very rare occurrence on Late Night--and sang "He's Gone" a la Hall & Oates while a montage sequence depicting LaBamba's downfall played, it lured LaBamba back to the show. Then Conan serenaded LaBamba with "He's Back" and--get this--pulled a Gwen Stefani on LaBamba as they went to commercial (you know, the head-licking from the end of Moby's "South Side" video?) What must Liza think?
Then came the interviews. As of late, Conan did two segments with the first guest, Luke Perry. (A "Windfall" for NBC's summer schedule perhaps?) A rather lackluster interview subject, though growing up, Perry's Uncle Bob drove home drinking a 12-pack of beer and told him that a nice girl will "put it in for ya." (Dear me.)
Which leads me to the second guest: Ludacris. One question: Why wasn't Ludacris the first guest? Apparently ATL has the best strip clubs in da wurrld and the best food. Ludacris has a foot fetish, and he and Conan ruminated upon Halle Berry's famous interview with Conan from a few years back when she left her shoes at Regis earlier that morning then went on Conan THE SAME DAY! "GET OUT!" Conan screamed, and so Halle Berry did just that. Conan screamed girlishly, "Nooo! No! Come back! Come back!" and long-jumped over the furniture trying desperately to regain her. Anyway, through the magic of high-def, we got to see a close up of Halle Berry's feet--horrific!
Let's all hope we don't see an obit of Ludacris eventually: "Rapper, actor Ludacris killed in tragic high-speed accident on I-285." But Ludacris is right--you CAN pick out Conan's singing voice in a song, it's so high. "Please, ruin your career for Conan!"
Then Van Hunt did another great, low-key performance.
A good night for the show, indeed.
-- SonOfJoel
Date: Thursday, June 8, 2006
Guests: Kevin Kline, Kevin Dillon, Lewis Black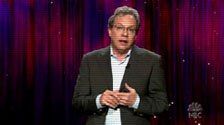 Tonight Conan came out stroking his rather snazzy suit. I must say, that tie suited him well. After calming the audience, Conan asked Max about the show and began the monologue. Conan informed us of the bomb dropped on Zarqawi and how it infuriated Bush because he just now learned how to pronounce his name. Al-Zarqawi was caught hiding in his safe house, which is now a smoldering hole called the "not so safe house". Brad Pitt and Angelina Jolie deny rumors that they will be married. They are both looking for someone better-looking. Conan then mentioned that 2 dozen people became sick at an IHOP in Arkansas this week. The people of Arkansas said they deserved it for eating at a fancy foreign restaurant. According to a new study, iPods are more popular than beer among college students. This trend will not last unless iPods begin to make ugly people appear good looking at 2 am. In a recent interview, Britney Spears announced that she is fed up with K-Fed. Her words were "I'm gonna' drop him like a baby".
After the monologue Conan ventured over to his desk and decided to give prom advice to high schoolers. He informed us of recent prom themes including; "You Look Do-Able Tonight!", "Remembering Tiananmen Square" and "A Night without Fire Exits". He then uncovered the mystery of what Limo drivers do during prom. Apparently they have a little fun for themselves involving a disco ball in a closet. He educated us on new dance moves; Darren Rhodes showed us a few of the latest. The first dance, the "Bird Flu", involved flapping your arms and occasionally sneezing. The second, "Pumpin' Gas" involved pretending to pump gas and pay. Darren was soon told to leave by Conan. Conan then brought out Pierre Bernard to give advice on asking a girl to the prom. Pierre told the guys to call an escort service. He then advised that you examine your date before the prom, because you don't want to find out that she has a penis after you paid for dinner. "The More You Know" banner was then flashed across the screen. Good advice. Max then shared his insights on the prom by telling jokes. "Why was the guy angry when his girlfriend gave him figs? Because he wanted a prom date!" "What's black, elegant, and goes quack at the prom? A duxedo!" "Why did the famous professional drummer not show up at the prom? Because he was too busy looking at internet porn." Conan then asked why there was no rim shot after the last joke. Max replied, "Those are only for the jokes."
It was then time for the "Late Night Prom". Joel Goddard arrived with his date who he found on Craigslist. Max arrived with his neighbor's youngest daughter. The Coked-up Werewolf came stag. The Masturbating Bear came with the cleaning lady, and Conan's date was a tall blonde. Conan left the studio with a blond woman who escorted him to his real blond date, Fabio. Fabio was prepared with red roses for Conan, swept him off of his feet, and they began to spin at Conan's request. What a sight that was.
After the break, Conan welcomed Kevin Kline who was promoting "A Prairie Home Companion". This was Kevin's first time on the show, and Conan asked him why. His answer was that he watches Conan religiously but doesn't watch himself on TV, and he couldn't bring himself to miss a night of Conan. Conan called him on lying and urged him to try again. Kevin had just come from play practice and they began to discuss the downfall of Shakespearean actors. Apparently, people either over or under-play the roles. No one ever nails them. Conan then decided that they should practice their Shakespearian acting skills. Conan gave what I would call a Dr. Seuss performance. Kevin critiqued him as being overdramatic. They then discussed his hand movement. Conan questioned if Kevin's hand movements had anything to do with his plethora of job offerings to play a gay person. Conan proclaimed that he'd use hand movements to overshadow his inability to act. They then moved on to discuss Kevin's experiences in France. Kevin claims the only thing he gets out of going to France is dirty words/expressions. Conan asked for an example. When describing a girl with "big boobies" Kevin said the French version was, "There are a lot of people in the balcony." He then told Conan that he gave a pregnant Maya Rudolph alcohol during the filming of his new movie. Don't worry though, the baby is fine.
Next out was Kevin Dillon who is on the show "Entourage". Conan congratulated him on being on the cover of Entertainment Weekly, and then Kevin informed Conan that he was on an IV at the time which was the reason he looked so good. Apparently, it smoothes out your wrinkles. Kevin then talked about his Elvis wedding. Luckily, they got a young, non-fat Elvis to marry him and his bride. Kevin then told Conan about his entourage. He claimed they were the 14 toughest guys around. Conan showed off his entourage, which was Max and LaBamba.
Lewis Black was out next. The first words out of his mouth were, "Dick Cheney - and that's all I've got to say." He explained that anything relating to the Vice President or shooting your friend in the face will be funny. He went on to say that no one hunts quail and how you should have to hunt something that could at least crush your feet. He claims that quail hunting is equivalent to walking up to a goldfish bowl and instead of going fishing grabbing a fish from the bowl and going, "I've got it." He then explained that when you hunt you don't hunt in a circle, you do it in a line. He then created an example. The Vice President is behind the quail. His fried is standing to his left. He then exclaimed, "You tell me how it happened!" Continuing with the Vice President, Black claimed that the country is much like the Vice President, because we don't know what we're doing anymore. He then told a true story about airport security. He saw a paralyzed elderly woman in a wheelchair being swabbed by security to test if she was a bomb. Apparently, he walked up to security and said, "Trust me, she's not a bomb." Lewis then went on to complain how hard it is to be a comic these days, because you can't keep up with everything that's going on. For example, immigration was no problem 6 weeks ago. He told how he woke up one morning and it was, "OH MY GOD - MEXICANS EVERYWHERE! DON'T TOUCH THE GUACAMOLE." He continued to knock the government. He then reminded us of how Iran has nuclear capability, not Iraq. So the CIA didn't know the difference between an N and a Q, big deal. Lewis believes that the president is worried about something every week, and the president's topic this week is gay marriage. With all this going on that's all the president is worried about. He then did an impression of Bush: "The gays are getting marred. Oh my god – let's go to code fuchsia." "We have an energy problem and what are we doing? Nothing, but it's those gays!" The gays obviously are the source for all of our problems. According to Black, if we stop the gays from getting married, everyone will have health insurance, gas prices will decrease, and the Sunni and Shiites will make amends.
--
_cant_explain_ / Caitlin
Date: Friday, June 9, 2006
Guests: Denis Leary, Rita Wilson, Brandi Carlisle

Act I
Intro - Conan comes out as usual and at the end of his dancing around, puts his tie in his mouth and pops it out with his finger. He makes a joke with Max, as usual, about how Max killed all the energy in the room with his lack-luster response to Conan asking if it would be a good show. The monologue consisted of six jokes covering the following:
*Immigration issue: Bush said deporting 11 million illegal aliens "ain't gonna work." Then when asked what he would be doing for the rest of the day, he said the same. (While the audience laughed at this joke, Conan put the end of his tie in his mouth then took it out making a bad face, turned to Max and said, "That was a terrible idea.")
*Meredith Vieira is leaving the "The View" (audience laughs at set-up, or actually just at the words, "The View")
*Brittany Spears hired a Christian Life Coach, which, according to Conan, caused the coach to say about Kevin Federline, "Jesus, what a loser!"
*The upcoming Tony Awards prompted Conan to ask what strait people were planning to watch. (This upset a small group of Tony Award fans who Conan pointed out and made a joke of, ala "Star Wars" nerds' "That's not funny, Conan O'Brien!" response, though he didn't actually use those words.)
*Paris Hilton's hit & run in a parking lot, where she nicked another car and drove off. Conan stated that this was because she was "not used to having her head above the steering wheel."
*And finally the quotable: "After the birth of their child, Brad Pitt & Angelina Jolie gave a press conference that was open only to reporters from Namibia. As a result the first question was, "Do you have any food?" [light laughter from audience] "It was also the second and third question." The audience didn't laugh too much at this one, but I thought it was really funny!
Conan segued into the guest line-up with, "We've got a classy show, we've got a classy show…" He bowed to the guests as he announced them. [Monologue Complete!]
"…Over here Max Weinberg & the Max Weinberg 7, Max!" "Conan!" The band played Conan to the desk with the song "People Everywhere Just Got to Be Free".
Not wasting any time, Conan went directly into the comedy bit at the desk. He mentioned the recent death of Iraq's number one terrorist and said he thought we should talk to
our
leader about it, thus beginning a hilarious George W. Bush Clutch Cargo. When the TV screen first came down, Bush (played by Robert Smigel) was shooting pistols rapidly with both his "hands" while shouting a lot of "woo-hoo's" and such for having defeated this terrorist. Bush spoke a little, then went back to shooting off his pistols. Conan seemed confused as to why the guns were still shooting and laughingly asked, "Is the button stuck?" Bush replied with, "Oh, man. We'll be here all night." Then the gun noises finally stopped. "Don't be a Conan O'Buzzkill," says Bush after Conan told him to calm down. Conan then asked if he was going to put up a "Mission Accomplished" banner like last time, and Bush replies by showing him the banner he
does
plan to use, reading: "Maui Wowie, We Got Zarqawi". Some more hilarity occurs. Then Conan brought up the fact that Bush still has not caught Osama bin Laden, to which Bush replied, "Conan, I'm glad you brought up gay marriage." Conan asked Bush why he was harping on issues like immigration and gay marriage to distract Americans from the real issues. Bush then told Conan about the biggest problem of all: "Immigaytion! Conan, imagine thousands of gay Mexicans - or as we call them at the state department, 'Homo-Mexuals' - sashaying recklessly across our border through tastefully decorated tunnels. I'm sorry, Conan, but someone's got to stop these macho flavored speedo-bandidos before it's too late." [audience laughs hysterically] Conan then said goodbye to the president and he left by shooting his pistols wildly again, though he seemed to leave before the pistols prompting Conan to say, "I think the president left before his hands…we need more money on this show."
The next cargo guest was Jolie & Pitt's new daughter, Shiloh, who Conan said they paid $8 million to get the first interview with. On the screen was a baby with huge lips (played by Brian Stack). Shiloh told Conan that she planned to go to the States and steal Vince Vaughn. Conan interjected saying that she should date someone her own age and suggested Baron, Donald Trump's newly born son, who then joined Shiloh on the screen. (Baron was played by Smigel.) Baby Baron has hair like his father and also the exact same voice. A hilarious interview ensued, with Baron telling Conan about luxurious "Trump poopy" that he just made, that only the finest imported strained peas could produce. "Conan, this poopy was HUGE!" Baron then went on to tell Conan, "You're fired." Conan told him that he has to get his own catch phrase, so he changed it to, "You're Pacifired." [huge laughs from audience - they love this bit] And the show went to commercial.
Act II: Interview with Denis Leary (promoting TV show: Rescue Me on FX)
Conan first asked Denis about his marriage, as he has been married for 16 years. Leary went on to tell, in his usual cynical but funny way, about how to make a marriage last for that long, stating the main thing is to "stay the hell away from each other." He told Conan that he's in for "a lot of pain" since he's only been married for four years. Conan then said he was going to tell his wife not to watch tonight. Conan asked Denis if he still smokes and Leary said not as much as he used to, but he will still light up in public places. He then told a funny story about the last time he smoked in an airplane, saying it was when going to Ireland last fall on Aer Lingus. He thought the stewardess had it out for him, as she made the announcement for not smoking while staring right at him several times, so he retaliated by going in the bathroom and smoking through the whole flight. Conan interjected, noting that what he did was classic passive-aggressive Irish behavior, then did his famous imitation of an Irish person - which of course came out sounding like the Lucky Charms leprechaun. [They then went to commercial.] Conan asked Leary if he enjoyed playing soccer, which he said he didn't because you can't use your hands or beat on people. "…Same thing with the Irish dancing. You can't use your arms… why?? It's like having sex without using your penis! It doesn't make any sense!" To which Conan replied, "It can be done..." They then discussed the rumor that Ben Affleck was given a World Series ring by the Boston Red Sox. Leary and Conan discussed how Afflect didn't deserve it and that it should have been given to one of them as they were older and more deserving. The audience, of course, agreed and cheered Conan on!! They then got to talking about
Rescue Me
. Leary told how a lot of the stories on the show are based on real fires. He also said that the real fire department often shows up when they are filming, thinking it's a real fire.
Act III: Interview with Rita Wilson (promoting the play/musical: Chicago)
The interview began with Conan asking her about her experience filming "Jingle All the Way" with Arnold Schwarzenegger. Wilson did not hesitate to make fun of it, particularly one of the last scenes, explaining why it was not very realistic. Conan then told his "favorite story of Arnold ever", where he was on his honeymoon in a resort in Mexico and Arnold happened to be there too. Conan said Arnold was running around the pool, holding toys, and yelling at his kids, "No, stop it! You get out of there!" etc. "It was so great to see him reduced…," says Conan. Wilson then told a funny story about seeing Arnold teach his kids how to count to ten in German. Conan asked her about the Vanity Fair article she was a part of, where she lived in France for a few months to try to blend in, which she says didn't really work as French women are just cooler than anyone else. They then talk about
Chicago
and Wilson taught him a couple poses, including "Jazz Hands". They practiced and Conan ended up with a solemn face in the middle of his jazz hands, saying he was, "a window of despair…an Irish guy whose soul left his body years ago." [many laughs]
Act IV: Reading of Next Week's Guests & a Short Mid-Show Funny
After reading the upcoming guests, Brian Stack interjected with a character he did only once before, I believe about a year ago. It's a redneck guy who sits in the audience and asks Conan how he can watch the upcoming shows. Conan says he can watch them on TV and he asks, "What if I ain't got no TV?" Then Conan asks if he can watch it at a friend's house. To which he replies, "What if I ain't got no friends?" Neighbors?? "What if I ain't got no neighbors?" Conan then asks if he could watch a tape of the shows later. "What if I ain't got no later?" Conan asks what he means, and the camera cuts back to Stack who looks dead with his eyes wide open and his head tilted to the side. "…I didn't know what to make of that," Conan says, though the audience loved it.
Act V: Brandi Carlisle (promoting: her self-titled CD and upcoming appearance at the House of Blues in Cleveland, OH)
The singer had an acoustic vibe, though she had two guitars, a drum kit, and a cello accompanying her. The lyrics were very clear, the song moderately fast. I thought her voice resembled that of Melissa Etheridge. After the song, Conan politely thanked Carlisle and her band, then signed off as usual with, "Bye everybody, bye!" The credits rolled with the two Clutch Cargo babies bit again. The number (212)664-6030 was displayed on the screen for tickets.
--
andyblitz4evr / Abby
---

The show schedule is subject to changes throughout the week--
Monday 6/12:
Lindsay Lohan, Colin Hanks, Coldplay (R 12/7/05)
Tuesday 6/13:
Julia Stiles, Louis C.K., Be Your Own Pet
Wednesday 6/14:
Rosie Perez, Morgan Pressel, Regina Spektor
Thursday 6/15:
Dane Cook, Shaun White, Dr. John
Friday 6/16:
Sandra Oh, Gordon Ramsay, Chris Isaak
---
Screen Caps
Screen caps from LaBamba is Gone sketch
(June 7, 2006)
And a few HD screen caps:
Screen caps from June 8, 2006
- Monologue, Prom Primer, Kevin Kline, Kevin Dillon, Lewis Black
Videos from "Late Night"
Tuesday, June 6, 2006
Evil Puppy
Wednesday, June 7, 2006
LaBamba is Gone sketch
Thursday, June 8, 2006
Late Night Prom Primer
Lewis Black
Friday, June 9, 2006
Clutch Cargo
with President Bush, Baby Jolie-Pitt, and Baby Trump
August 5, 2004
Louis C.K.
(stand-up and short interview)
---

Please email
stephwearsshades@aol.com
if you want to contribute one of the following things to our newsletter:


Fan story/experience (& pictures pertaining to Conan and/or Late Night)


Fan Art


Conan News you feel we'd benefit from hearing about


If you're interested in becoming an Episode Recapper (We're extremely understaffed in this department, ALL help is appreciated!)


Your application to become Fan of the Week (Look in the community userinfo for more information)
Also e-mail stephwearsshades@aol.com to get a weekly e-mail with a direct link to the newsletter if you don't have a LiveJournal or you don't check your friends' page often.
---

*Euuuge thank you to
andyblitz4evr, SonOfJoel, and
_cant_explain_ for the recaps!
*Episode recap screen caps provided by http://www.latenighttorrents.com/forum/
*LaBamba is Gone original HD broadcast screen caps by Conan Zonen
*Conan-OBrien.net screen caps by
conansgoddess
*LN guest schedule provided by NBC Universal Media Village
*Compiled and edited by
conansgoddess
---
Feel free to comment/make suggestions.