This week's newsletter includes:
Conan at University @ Buffalo - Video & Photo Gallery


NBC Picks Up 6 Episodes of Andy Barker, P.I.


Conan in Desperate Networks by Bill Carter


Conan's Article in Rolling Stone's 1000th Issue


Conan at Tribeca Film Festival


Triumph, Conan? at Comedy Love Call – October 15, 2006


NBC Website Update


This Week's Schedule


Family Corner


Fan Story: A Late Night with Conan O'Brien


Extras: Screen Caps, Videos, Poll: Favorite Late Night Character
Conan at University @ Buffalo – Video & Photo Gallery
Conan appeared at UB on April 22 as part of the
Distinguished Speakers Series
. You can download a video with a clip from Conan's appearance and a short interview with a reporter from
Mega Upload
.
There is a
Gallery of Conan at UB on Flickr
.
NBC Picks Up 6 Episodes of Andy Barker, P.I.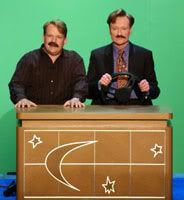 In
Conan O'Brien speaks: 'Chicago is in our DNA'
from May 5, 2006, Conan revealed that he would hear as to whether
Andy Barker, P.I.
, his new TV pilot with Andy Richter, would be picked up by NBC while
Late Night
was in Chicago (May 9-12).
On May 11, 2006, an
article in the Hollywood Reporter
revealed the unfortunate news that "NBC is passing on
Andy Barker, P.I.
."
NBC's decision to pass on the "Barker" pilot spurred producers to put out feelers to other networks for the project. By Friday morning, NBC brass had reversed course and given it a midseason nod (
Reuters
).
Thus, according to a
Variety
article published May 12: "Reversing earlier buzz to the contrary,
NBC has ordered six episodes of the Andy Richter laffer Andy Barker, P.I. for midseason
."
Congrats to all involved in the project! I think all Conan & Andy fans are eagerly waiting to see this show!
Conan Mentioned in "Desperate Networks"
Conan is mentioned in a new book by Bill Carter (of the
New York Times
and writer of
The Late Shift
about Leno & Letterman) titled
Desperate Networks: Starring Katie Couric, Les Moonves, Simon Cowell, Dan Rather, Jeff Zucker, Teri Hatcher, Conan O'Brien, Donald Trump, and a Host of Other Movers and Shakers Who Changed the Face of Primetime TV
. The book was published May 2, 2006.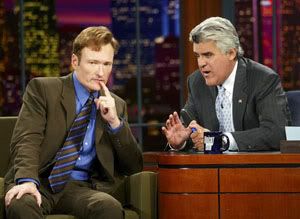 Some excerpts from the book have been posted on the internet, revealing mainly that Jay Leno is being quite passive-aggressive about handing over the
Tonight Show
reigns to Conan in 2009.
Kansas City Star
, May 10, 2006:
"If you've been reading Bill Carter's
Desperate Networks
(you're not? what's yer PROBLEM?), you've read the postscript to the backstage negotiations that resulted in O'Brien getting "The Tonight Show": According to Carter, Leno -- who has suddenly stopped talking to the press -- is unhappy about the turn of events, and if he's still No. 1 in 2009, when NBC has obligated him to retire, he'll jump to another network and compete with O'Brien anyway."
TV Squad
, May 4, 2006:
"A few years ago, ABC and FOX tried to get Conan O'Brien. FOX offered him $21 million, but O'Brien wasn't sure of their late night chances. Plus he was hoping "The Tonight Show" would be available. Jeff Zucker considered Jon Stewart, but thought his appeal was too narrow. And as it turned out, O'Brien will take over for Jay Leno in 2009. Leno is very upset with NBC (which is why he now includes more jokes about NBC in his monologue), but didn't want to put O'Brien through what he went through during the whole Carson/Letterman/Leno mess in the early 90s."
Conan's Article in Rolling Stone's 1000th Issue
In the 1000th issue of
Rolling Stone
magazine (May, 2006), Conan wrote an article about the
Rolling Stone
cover that features Johnny Carson:
"So much praise has been heaped on Johnny Carson that it feels, at times, like we're losing sight of him. Call Johnny "The Master" or "The Best Ever" as often as you want, but none of that gets you any closer to the guy playfully riding up on his toes after a great Sheriff Lobo joke. Reverence is dangerous stuff for comedians. It's cold and confining. Comedians famously can't accept a compliment, and the reason, I think, is that there's nowhere to go with it. It's a trap, and though I really didn't know the man, I sense that few comedians were more aware of that trap than Johnny.
So the nice thing about his 1979 interview with Timothy White is that it sidesteps all the hyperbole and puts Johnny back where he belongs, in the present tense. The man grinning mischievously on the cover of Rolling Stone is at the height of his fame and influence, and he speaks frankly about the ins and outs of a job he loved to do. His own stardom clearly doesn't interest him much, and he deflects any effort to get philosophical about comedy or his iconic status. At one point, Johnny says, "I know what I can do and what I think is funny and what makes me laugh. And what I can do that makes people laugh. I prefer to concentrate on what I know." At this point in his life, Johnny Carson is the biggest star anyone would ever see on television, and he's telling us not to make too much of it all. Don't overthink it, just enjoy.
I was fifteen when this article came out, and I watched The Tonight Show regularly with my father, who always wore an absurd green robe and insited he'd go to bed right after the monologue but never did. In the late Seventies, Johnny was neutral territory for a moody teenager and his dad, because the show was such an American ritual it spanned the mainstream and the counterculture. I was very interested in comedy then and already analyzing it in that nerdy, adolescent way that either ends in violence or a career. It's only now I realize that my clearest memories of the show are of Johnny thoroughly enjoying himself. Walking onto the set of C.P.O. Sharkey to surprise Don Rickles. Joking that the Shah of Iran had gone into hiding as a regular on Hello, Larry. Telling Dolly Parton he'd give a year's pay to look under her blouse. He liked slapstick, burlesque, wordplay, magic, silly costumes, astronomers, W.C. Fields and Richard Pryor. He was proud to consider himself an entertainer - not a pundit or a humorist or a tonic for societal ills.
Over the years, I spoke with Johnny on a few occasions, never for very long, but one exchange comes to mind as I write this. It was 2001, and I was hosting a special on Fifty Years of NBC Late Night, featuring the work of Steve Allen, Jack Paar, David Letterman, Jay Leno and, of course, Johnny. After the special, Johnny called me to say that he had liked the show. I told him that, of all the hundreds of clips, the only one to make the writers and myself laugh every time was his famous Art Fern sketch where a mustachioed Carson, as Fern, slaps a road map with a pointer and instructs his viewers to take the freeway to the Slauson Cutoff, "get out of your car, cut off your Slauson." A nonsensical dick joke by a man in a ridiculous wig made a room of snarky, self-conscious comedy writers laugh every sing time. Johnny laughed and said, "Yeah, I don't know why that's funny - maybe the timing."
In other words, even Johnny Carson didn't know why that was funny. And he didn't want to know. His career had been a mosaic of funny moments, and he rejected the idea that any one, or the whole, should be dissected. "I am an entertainer, and I always look at myself as an entertainer," he says in this interview. Mythologize Carson if you like, but I think the better way to go is to pop in a tape - and there are plenty - and enjoy a very funny man enjoying himself."
-Article transcribed by
angelkutty
.
Conan at Tribeca Film Festival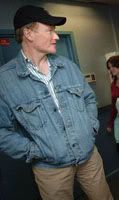 Conan was at the Monday, May 1, 2006 screening of "Pittsburgh" (Jeff Goldblum's new movie) at the Tribeca Film Festival.
According to the
Pittsburgh Post-Gazette
, Conan "appears in the movie when Goldblum goes on his show and finds he's in the No. 2 slot because he's just going to talk about a stage play in Pittsburgh. He admitted that a backstage scene in which he tells Goldblum he's now set a precedent and may not get back to No. 1, was in response to the filmmakers' invitation to have fun. Normally, he would never tell guests such hard truths, he said.
O'Brien also said that Goldblum is just about a perfect talk-show guest, because even his awkwardness is funny."
(
Audio
:
Conan O'Brien says Jeff Goldblum is a dream guest for a talk show host.
)
Triumph, Conan? @ Comedy Love Call – October 15, 2006
Comedy Central to Air First-Ever Live Special Event
'The Daily Show's' Jon Stewart, Jack Black, Sacha Baron Cohen Aboard for Live On-Air Star-Studded Event for Autism in New York City
NEW YORK, May 2, 2006 /PRNewswire/ -- Roll out the red carpet ... COMEDY CENTRAL is gearing up for a live mega-watt event! The all-comedy network is partnering with Jon Stewart's Busboy Productions for its first-ever live on-air special event, it was announced today by Elizabeth Porter, senior vice president, specials and talent, COMEDY CENTRAL. "Comedy Love Call," a live benefit for Autism education and research programs, will feature Stewart and many of comedy's leading lights at New York City's Beacon Theater.
Mark your calendars; COMEDY CENTRAL is going live on Sunday, October 15 with "Comedy Love Call." Live from New York City's Beacon Theater, Stewart and a list of comedy and celebrity all-stars including Adam Sandler, Jack Black, Sacha Baron Cohen ("Da Ali G Show"), Stephen Colbert ("The Colbert Report") and
Triumph the Insult Comic Dog
("Late Night with Conan O'Brien"), among many others, will perform to raise money to help ease the severe shortage of effective schools and education programs for autistic children and adults.
"Comedy Love Call" will also benefit Autism Speaks, an organization created to benefit Autism research. The Autism epidemic now affects 1 in 166 children, according to the Center for Disease Control. In addition to live performances, viewers will be treated to sketches and short films from some of the most talented names in the comedy world. Stay tuned -- more names to be announced.
--------------
Editor's Note
: Conan did this benefit in 2005 (pictured to the right) though it wasn't aired on TV. Here's to hoping he does it again this year!
NBC Website Update
NBC completely updated their
Conan website
on May 9, 2006.
The most notable change is that there are now on-location videos from (I think) everywhere in the world Conan has gone with the show, linked on the main page or under "
Travels with Conan
". So check it out!
Late Night in Chicago
The next edition of the newsletter will be devoted to
Late Night
's May 9-12 trip to Chicago! So until then, "Keep cool my Midwest babies!"
---

The show schedule is subject to changes throughout the week--
Monday 5/15:
Alan Alda, Billy Joel (R 12/1/06)
Tuesday 5/16:
Megan Mullaly, Mike Wallace, Jewel
Wednesday 5/17:
People in Planes
Thursday 5/18:
Edie Falco, Billy Connolly, the Raconteurs
Friday 5/19:
Larry King, Omar Epps, Sheila Kelley
---

Conan & Liza's son, Beckett, turned 6 months old on Tuesday, May 9, 2006.
In a recent
interview with Bob Sirott (of NBC 5 in Chicago)
, when asked if he watches his show, Conan stated he doesn't but that Liza TiVos
Late Night
and watches it in the morning. Sometimes instead of letting her watch the whole thing, he'll tell her a specific part to forward to in the show if something was particularly good/funny.
---
A Late Night with Conan O'Brien
Saturday, April 22, 2006
By
Jason
"It's true! Should I get some tickets?" she inquired.
I stared unbelievingly at my girlfriend. She had just informed me that her school, the University at Buffalo, was hosting an event in their Distinguished Speakers series in which I, a lowly Canadian peasant, might just be able to occupy the same room as one of history's greatest comedic minds - Mr. Conan O'Brien.
She continued, "They're also having George Carlin, Colin Powell, I think the Dali Llama is.."
"Colin Who? Dali What?" I screamed, mere seconds away from blind rage, "What are you talking about? Get the Conan tickets!"
And so it was done. Four weeks and three less-than-legitimately-obtained student tickets later, the day had finally arrived. I had a birthday party on the other end of the province for a few of my siblings and nieces earlier in the day, but I had it all worked out. I'd wake up at 6 am, on the road by 6:15, arrive at 11, visit for a solid 45 minutes, then back on the road to be across the Canada-U.S. border and in Buffalo by 7:30pm.
My priorities may seem in question to some, but to me there was no debate. Birthdays, my friends, occur every year. This could very well be my only chance in life to see one of the few celebrities that I actually respect and admire. And so.. I was off.
I met with my group on the campus grounds and there was some nervous discussion regarding what the format of the event would be. The Distinguished Speakers series was not exactly a format that catered to a lively, comedic fellow such as Conan. Previous events were renowned for their dry, academia flavor. I wasn't worried. Hell, it could be a four hour lecture on macro level socio-political effects of industrialization in third world nations. Conan would make it entertaining.
The event kicked off with speeches from members of the faculty and student-body association. After what seemed to be at least 15 hours, the powers that be decided the crowd was sufficiently warmed. The lights dimmed and two giant video screens filled with a Late Night clip montage. Classic moments filled the screen – Conan being serenaded by Herry Connick Junior, Will Farrel in a St. Patricks day speedo performing a saucy crawl across Conan's desk, Conan and Steve Irwin wrestling a foam gator in a kiddie pool – the crowd exploded with laughter.
The montage ended, a splotlight exploded onto the stage floor, and he was there. Mr. Conan O'Brien. The crowd of 8,000 sprang to its feet with applause and cheers. Mr. O'Brien waved and thanked the crowd, stripped off his jacket, and erupted into dance – the kind of dance only Conan can do. When the crowd settled, instead of launching into a speech, Conan began a Late Night style opening.
"I love this school!" he cried, "It is the crowned jewel of the S.U.N.Y. system!"
Ahh. So very prestigious.
The night progressed, to my delight, in a Q&A format. The event was M.C.'d by the University VP of Student Affairs, Dennis Black. Black, being seated on stage with Conan, was quickly transformed from quintessential academic to the straight man in a Conan O'Brien double act. Lucky bastard.
When he noticed the level of order in which the event was proceeding, and the cue cards Black was reading from, Conan was quick to pounce. "Look at you with your little cards," he sneered. "You live in a very orderly little world, don't you? Put those cards down. Where would you be then, huh?"
Questions were also asked by a group of students who had previously won a question writing contest for the event. When Conan noticed the distance the students were from the stage, he questioned Black as to why they were situated "at least 900 yards" from him in what appeared to be "a secured student confinement area".
"This isn't a Q&A session, it's a nazi show trial!" exclaimed the humorously dismayed O'Brien.
One of the questions asked of Conan was what he would have said if it were his show, instead of Oprah's, that Hollywood hoodwink Tom Cruise had engaged in his infamous couch jumping antics. Conan replied, "I wouldn't have said anything! If he had started jumping on my couch, I would have confined him until he started acting like a reasonable action star again. In fact, you should all invite him to next years event, and when he's about to speak you should all charge him and beat him with foam mallets. When he wakes up the next day, hopefully he'll be normal again."
In the two-and-change hours that the appearance lasted, I would estimate that I was laughing for all but eighteen seconds. Conan answered questions, gave advice to the students, and told interesting stories of his time as a writer and talk show host. Far from the tedious speakers of U of B past, Conan lit up the stage with his uproarious presence.
When the show wrapped up, Conan walked to the front of the cordon for a meet and greet with the thousand or so fans that remained. My group and I decided to try and make it to the front to get a handshake and photo, but it proved impossible. It was then that I remembered that Conan had mentioned that, much in the spirit of historically less-than respected entertainers, he came in through the back door of the building. Interesting..
We exited the building and our search for his likely exit point began. We circumnavigated the auditorium and came upon a rental Ford Expedition parked beside two campus police cruisers Paydirt!
After waiting for approximately an hour and a half, Conan, surrounded by police and security, exited the building. Without a moment's hesitation, a smile on his face, Conan flew past his entourage and bee lined towards the small group of fans awaiting his arrival. By this time the number of people who had figured out where he would be exiting had grown from just the four in my group to fifteen excited fans. He took the time to shake each of our hands, gave hugs to the ladies, signed autographs, engaged in a little chit-chat, and posed for pictures.
This is a testament to a personality that is incredibly thoughtful, down to earth, and humble. He seemed genuinely happy to mingle with this group of fans, and in no way indicated that he was having anything but a great time with them. When one considers that O'Brien came from less than humble roots – his father a professor at Harvard, his mother a high profile lawyer – it is clear that this is a man without the taint of Hollywood. The hallmark pomp, arrogance, and ego that is synonymous with American celebrity was nowhere to be found in Conan. I truly was honored to have the opportunity to be in his presence.
Thank you, Mr. O'Brien for an unforgettable evening. Here's hoping we'll meet again!
---
Screen Caps
April 26, 2006
-- monologue, Darrell Hammond, Reggie Bush
April 28, 2006
-- monologue, Fabio (in audience), State Quarters, Robert Smigel segment
Videos from Recent Episodes of "Late Night"
Tuesday, April 25, 2006
-
Alexis Bledel interview
Wednesday, April 26, 2006
-
Conan discussing Mike Sweeney's late entrance the night before
-
Finnish Underwear Exhibit remote
Thursday, April 27, 2006
-
Pale Force (starring Jim Gaffigan & Conan O'Brien) - Part 3
-
Salt Lick Sketch with Jeff Goldblum & Rachel Dratch
Friday, April 28, 2006
-
Robert Smigel interview
Thursday, May 4, 2006
-
Monologue & Conan on Dateline feature on sexual predators (on the TV in the background)
-
Instant Audience Upgrade sketch
with Conan, fans Pamela & Katrina, Jon Voight, Abe Vigoda, Tom Hanks
-
Tom Hanks interview
Friday, May 6, 2006
-
Izabel Goulart interview
Miscellaneous Late Night/Conan Videos
Conan at University at Buffalo
(short clip & interview) - April 22, 2006
1864 Baseball remote
- June 25, 2004
Conan on Spin City
(episode: Dead Dog Talking) - September 22, 1998
Late Night with Conan O'Brien's various intros through the years
:
-
Conan's First Show - September 13, 1993
-
First Opening Sketch ("Conan better be as good as Letterman") and Show Intro - September 13, 1993
-
September 30, 1994
-
LNwCOB 5th Anniversary Special – September 16, 1998
-
LNwCOB in Los Angeles - November 10, 1999
-
December 17, 1999
-
December 22, 2000
-
February 18, 2003
-
LNwCOB 10th Anniversary Special – September 2003
-
LNwCOB in Toronto - February 11, 2004
-
March 1, 2006
-
LNwCOB in Chicago - May 9, 2006
Poll: Favorite Late Night Character
---

Please email
stephwearsshades@aol.com
if you want to contribute one of the following things to our newsletter:


Fan story/experience (& pictures pertaining to Conan and/or Late Night)


Fan Art


Conan News you feel we'd benefit from hearing about


If you're interested in becoming an Episode Recapper (We're extremely understaffed in this department, ALL help is appreciated!)


Your application to become Fan of the Week (Look in the community userinfo for more information)
Also e-mail stephwearsshades@aol.com to get a weekly e-mail with a direct link to the newsletter if you don't have a LiveJournal or you don't check your friends' page often.
---


*Thanks to
angelkutty for transcribing the Rolling Stone article.
*Conan-OBrien.net screen caps by
conansgoddess
*LN guest schedule provided by http://www.interbridge.com/lineups.html#LN
*Compiled and edited by
conansgoddess
---
Feel free to comment/make suggestions.