April 25-28 and May 2-5, 2006 Episode Recaps


April 25-28 and May 2-5, 2006
Date: Tuesday, April 25, 2006
Guests: Mandy Moore, Alexis Bledel, Secret Machines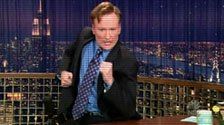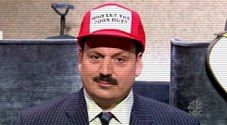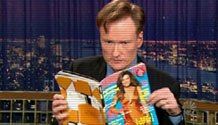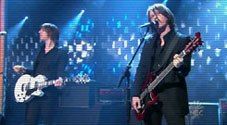 Whoa! Did you see that guy in the blue shirt running out from backstage just as Joel was announcing, "Now, here's your host, Conan O'Briieeeeeeeen"? I went back and watched the tape and determined it was Mike Sweeney (the head writer) running toward his podium in front of the audience! Hmm, odd…
Anyway, after Mike Sweeney ran out, Conan appeared. He did a jump and spin. He put his tie in his mouth then saluted the audience and poked his temporomandibular/jaw joint with his index finger (yes I'm a nerd), causing his jaw to drop open and the tie to fall out of his mouth. Conan did a few "whoos" along with the crowd and a few "shama shama hiii"s. Conan & Maxed saluted each other. Max made some other odd motions and Conan said it looked like he was being bar mitvahed.
The monologue included an Arnold Schwarzenegger joke followed by an impression that of course ended with air sausage-eating. Other jokes were about President Bush, Snoop Dogg, the new White House press secretary, & Ryan Seacrest and Paula Abdul. The joke that stood out: The official Presidential portrait of Bill Clinton was unveiled yesterday, and it shows Clinton wearing a suit, standing by a fireplace with his hand on his hip. A lot of people are criticizing the portrait saying it's too casual & not befitting a US President. Conan said it was a lot more dignified than other variations they tried, which he then showed pictures of; they were Clinton wearing a shirt that read "Free Moustache Rides," Clinton in an S&M outfit, and Clinton standing naked with one foot up on a chair (that was Conan's favorite).
At the desk, Conan asked Max what he did over the weekend. Max said it was "kind of rainy around these parts, so I just [pause] hung out." Conan made fun of Max, "You tell a great story, man." Likewise, Max asked what Conan did, and he said he "went up to the University at Buffalo and spoke to the kids. I'd like to thank the University at Buffalo for inviting me, and I'd also like to thank Carrot Top for canceling at the last minute. 'Carrot Top is gone – what do we do? Get another red-haired freak in here! … Conan!' I came running all across the state, my man boobs jiggling."
Next Conan said something happened recently that he
must
talk about. "The Phoenix", an arts & entertainment news weekly in Boston, recently ranked the 100 unsexiest men in the world. For example,
#1
was comedian Gilbert Gottfried. Coming in at
#85
was the Max Weinberg 7's very own LaBamba. Conan said he disagreed - "I was horrified and angered when I was told about it minutes ago." Conan said he's competitive, and he doesn't see why LaBamba isn't in the top
50
unsexiest men in the world. To move up in the ranks, LaBamba is making some simple changes that he showed us – he's replacing his trademark fedora with a "Who Let the Dogs Out?" baseball cap, he's fashioning his belly button lint into a mustache, and finally, he got a Pat Sajak neck tattoo.
Next up was Actual Items – you just can't make these up! My favorite was an ad for ladies' colorful smock tops, just $9.99 each. The ad featured a middle aged woman wearing a smock top next to the caption, "Lower your husband's erections by 42%."
In Act II, Conan welcomed actress/singer Mandy Moore. He thanked her for being there, then growled and made a clawing motion at her. He said, "No one finds this attractive but I still do it. I'm still looking for the woman who likes that. Even my wife despises it - I'm like 'rrrrrr' and she bats it (my hand) away." Aww. We love the Conan growl! Mandy said she kind of thinks it's sexy.
Conan said they were watching old interviews to prepare for Mandy coming on the show today, and one time in the past Mandy had said "jeez Louise!" So Conan & the other people watching the footage thought she must be one of the sweetest people in the world since not many people say phrases like that anymore. Mandy said she's sort of an old woman -- goes to bed early, likes vintage clothes (old womany clothes, she admitted). She says she tries to say things like "good gracious" and "sugarfoot" instead of swearing because she's trying to be a good young woman.
Conan next showed a cover of Cosmo that Mandy is on with the headline "Orgasms Unlimited" right next to her face. Mandy said she's flattered to be on the cover, but her parents have framed every magazine she's ever been on, so she's horrified thinking of her dad going to get this Cosmo framed. They discussed how "Orgasms Unlimited" didn't have anything to do with Mandy; it was just an article in the magazine. Conan said, "I was on the cover of Time Magazine a few years ago, and right next to me was another story, but it said 'Pedophile Captured.'" [The camera zoomed in on his face as he made his eyes really wide.] "And they're like 'we're sorry' and I'm like 'oh well – a cover is a cover!'" [Note: Conan was joking.]
To conserve gasoline, Mandy recently bought an 80s vintage car with a diesel engine and a conversion kit to convert the engine to run on bio-diesel or soybean oil. She's just waiting for the paparazzi picture of her at McDonald's late at night stealing used French fry oil and siphoning it into her car. "She's just like us!" Mandy said, imitating America. Conan has heard the exhaust of those cars smells like the food, and that's actually what sold Mandy on the car. The car dealer in LA turned on one of the cars and it smelled like Mongolian Barbeque.
They discussed Mandy's guest spot on "Scrubs" where she had to kiss Sarah Chalke, who she is good friends with. According to Conan, "Then you found out later there was no film in the camera."
Finally, they discussed Mandy's role in the new movie "American Dreamz". Conan asked what song she would sing if she was on "American Idol". Mandy said, "Probably something by Carole King – I probably wouldn't make it that far 'cause it's not jazzy enough. 'Jazzy'? I'm such an old woman!" Conan poked fun at her - "I'd sing something upbeat and fast – like a Kay Kyser song!" Lastly, Conan & Mandy both agreed that they like to see people on American Idol who can't sing fail, but who doesn't?
When they came back from commercial, Conan was engrossed in the Cosmo magazine, then put the magazine down and declared, "I've been doing it all wrong."
Since the NFL draft was coming up on Saturday, Conan & Max decided to do a "Late Night NFL Draft Small Talk Moment". Max & Conan had a dialogue about the various football players and teams. The end of this sketch was the most amusing to me.
Max: "The NFL draft is the most exciting event this side of the Super Bowl!"
Conan: "It sure is, Max!"
[deadpan stares]
In Act IV, Conan welcomed actress Alexis Bledel. He first told her, "My wife freaked out today when she found out you were on the program." "Is she alright?" asked Alexis. "No, she's in the hospital now…it's all your fault. No, she has what's called a 'girl crush' on you. She's like 'I have a girl crush on her,' and I said, 'It's gettin' weird.' Then I thought about it and thought 'that's cool…'" Conan said he & Liza are both fans of "Gilmore Girls".
Conan brought up that Spanish was Alexis's first language. She learned English in school. Most people don't realize she's Hispanic because "I look very… white." So when she was a kid, she remembers one time getting her hair cut by a lady who was speaking Spanish and didn't realize Alexis knew Spanish told her co-worker, "I just took a big chunk out of her hair." Alexis said her eyes were just popping out of her head, but she didn't know what to do.
Alexis said she likes to travel. Her favorite trip was to Tuscany where she and her friends took a cooking class. She went just to eat the food. Conan asked if Italian was her favorite cuisine, which led to Alexis admitting she loves all kinds of cuisine, even the Wendy's 99 cent, 5-piece chicken nuggets. Conan was intrigued - "Wow! Tell us more!" Conan said he doesn't think he's ever had Wendy's chicken nuggets. Conan asked what makes Wendy's chicken nuggets superior to other fast food nuggets. It turns out they're very crispy, they're white meat, and Wendy's has a variety of sauces - barbecue being the best. Wendy's also offers Hi-C fruit punch - the perfect chaser for a Wendy's chicken nugget. I think Conan was as fascinated as the home viewer. He asked Jeff Ross (the producer) if Wendy's was a sponsor, but sadly Jeff said their sponsor is McDonald's. Conan then went on about how he disagrees with Alexis -
McDonald's
is just better, then blew a kiss and daintily waved to McDonald's. "That was frightening … The Grimace is going to be waiting by my car tonight."
Conan then told a story about getting hooked on KFC. "I totally believe what you're saying. I once got hooked on –
I'm just going for it
– I got hooked once… Kentucky Friend Chicken, a couple years ago, was making this extra crispy chicken sandwich, and for some reason I had one at a KFC that's like up on 130th Street under an iron bridge. And I was going there late at night like I was going to buy heroine. And I'd eat it really fast. Then I'd see some police cars and run away."
Conan said Alexis is 24 but she looks much younger, so he asked if that's hard for her. Alexis said the weirdest part is since she's an actress, sometimes she has to play an 18 year old and her co-star will be 17 or 18, and she has to make out with this person. "I'm 24 – and I feel that that's wrong." Conan imitated her: "[in low-pitched voice] You kids – you don't know what it's like. You're so innocent but you get hooked on those Wendy's nuggets, and then it's all downhill."
The last topic of discussion was Alexis's new movie, "I'm Reed Fish". They showed a clip in which Reed Fish was dumping Alexis's character. After the clip, Conan said, "That is tough – I wouldn't do that to you, man."
"Gilmore Girls" airs Tuesdays at 8 pm on the WB, and "I'm Reed Fish" was premiering that weekend at the Tribeca Film Festival in New York City.
In Act V, Secret Machines performed "Lightning Blue Eyes" off their brand new album "Ten Silver Drops".
--
conansgoddess / Amanda
Date: Wednesday, April 26, 2006
Guests: Darrell Hammond, Reggie Bush, Eagles of Death Metal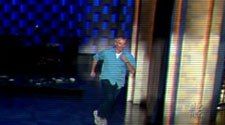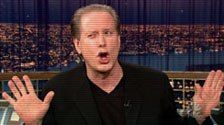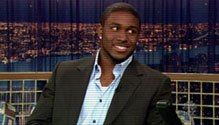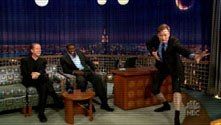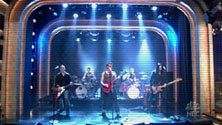 Wednesday's show featured guests Darrell Hammond, Reggie Bush, and the musical act Eagles of Death Metal. Conan came out very energetic and in the mood to make a good show. Conan's monologue jokes were about George Bush, Tom Cruise, Hilary Clinton, David Copperfield, Maury Povich, and Pizza Hut. He also did his impression of crazy Tom Cruise.
After Conan sat down at the desk, Conan mentioned an incident that happened the night before with head writer Mike Sweeney running out in the monologue area right before Conan came out. Conan showed footage which was zoomed in and slow motion of Mike running out. Apparently, the phones were ringing off the hook the next day with people calling to ask if he was an assailant of some sort. How could something like this happen on a professional TV show, Conan pondered. "'Hee Haw' was run more professionally than this show."
After Conan teased Mike some more, he brought up his trip to Finland this past February and some footage was shown from the Finland trip. It was about an underwear exhibition where Conan was introduced to many different and unusual styles of underwear. There were pictures of male erections and a really hair guy in underwear, which Conan identified as Tony Shalhoub. He also talked to a "doctor" dressed up in a pink outfit and looked at underwear made out of candy.
Darrell Hammond came out after the break and Conan brought up how Darrell does so many impressions. He did some Donald Trump, Dr. Phil, and Regis Philbin for us. He also talked about how he met President George Bush Sr. and accidentally said the wrong things. He wasn't really plugging anything, except Saturday Night Live.
Next, football player Reggie Bush came out. Conan talked about his amazement at how good he was at playing football and made lots of jokes. They joked about a pose that is on one of the football trophies and also his endorsement with Subway. Conan then took out a pair of tight
Adidas shorts that Reggie was promoting and then Conan put them on and modeled them off for the audience.
The show was concluded with a performance by Eagles of Death Metal.
--
conanincharge / Maria
Date: Thursday, April 27, 2006
Guests: Howie Mandel, Jim Gaffigan, the Goo Goo Dolls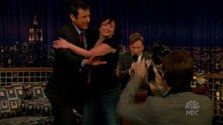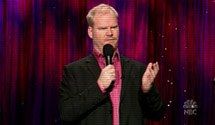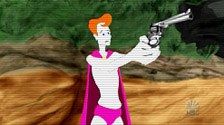 Right after Conan did his opening jump and spin, he put his hand on his hips and did a little gyration which was quite mesmerizing. LaBamba liked it, at least.
On to the monologue jokes:
Gas prices are insanely high, and even Conan says it costs over $600 to fill up your car. However, Exxon Mobil denies that they're price-gouging; they prefer the term "kicking America in the nuts." Kirstie Alley made it to People Magazine's 100 most beautiful people list - as
#36
-54. Katie Holmes is changing her name to Kate. Next week she's dying her hair blond and joining the witness protection program. A new report from the United Nations says the first 5 years of a child's life are the most important – in other words, if Angelina Jolie doesn't adopt you by then, you're in trouble. Last week Donald Trump donated 436 acres of wilderness to the state of New York; the park consists of 400 acres of trees all combed over to one side. [Conan did his beloved Trump impression.] Last night at London's airport Snoop Dogg & members of his posse were arrested after getting in a fight with the police. Two officers sustained minor injuries, and 15 were hospitalized for smoke inhalation. Last night Simon Cowell began the show "American Idol" by apologizing for being too rough on one of the contestants. When asked which contestant, Cowell replied "the douchebag."
At the desk, Conan inquired about the song the MW7 had just played during the walkover. Max told Conan it was "'The Nervous Boogie' … we actually did record it one time on that record we did that nobody bought" (referring to
The Max Weinberg 7 album
, available on Amazon.com. *wink*) Conan said "I'm sure people now will go rush out and buy it." Max replied with "meh." Conan was amused at Max's lack of self-promotion.
Conan next explained that a talk show is a very unnatural environment – even the "window" behind Conan is fake (say it isn't so!) Celebrities don't really act like themselves on talk shows because it's so unnatural. Conan has always wanted to see a celebrity on TV act without any phoniness and be themselves completely. Conan thought it would be cool if they could lure a celebrity to the studio tonight and see them in their natural state for once. In order to do so, they placed a salt lick in the studio. (Conan explained salt licks are normally used by hunters to attract deer.) As it turns out, celebrities love and crave salt as well. So the smell of the salt was starting to permeate the air, and Conan started whispering, dimmed the lights, and played some nature sounds to help lure a celebrity to the salt lick.
After about 30 seconds, the studio's double doors slowly opened to reveal a Goldblum – a Jeff Goldblum. The Goldblum made erratic movements toward the salt, licked the salt, then moved toward the guest chair and smelled the cushion. He sensed Conan, who had to remain perfectly still as not to startle the Goldblum. Jeff licked Conan's forehead and ran his fingers through Conan's pompadour as Conan remained perfectly still. [And the ladies loved it.] He then dug under the sofa cushion for an award and found a People's Choice Award. He suddenly sensed a female celebrity in the area. It was a Rachel Dratch from
Saturday Night Live
. She began applying lip gloss as the Goldblum was playing with his plumage before they made contact. Then they moved closer, began canoodling, and were photographed by an US Weekly photographer before going back behind the couch and mating. At that point, only the Goldblum's hand could be seen, as he was holding Rachel Dratch's foot up in the air behind the couch and slapping it – he's kinky!
The first guest was Howie Mandel from NBC's "Deal or No Deal" – the
#1
show on NBC as was pointed out many times by Conan & Howie. Howie said the New York audience is the most wonderful audience in the world. That line works everywhere he goes just by changing one word. He's claustrophobic, so he said on elevators he sniffs his finger for no reason and it makes people move away. Howie said he is self-conscious, especially in NY. Conan said it almost feels like everyone is watching you in New York. Howie discussed how he covers himself when he trips while walking.
He discussed a job he had before he got into show business at the Canadian National Exhibition as a carnival ride operator. Over the PA system, he used to tell people on the ride that they'd be going upside-down in 5 seconds so they better fasten the harness (which the ride did not have) and did a countdown, which would cause everyone on the ride to freak out since they didn't realize it was a practical joke. He only worked there for 4 days. Howie also does a lot of voices, one of which is a helium voice. Before he was well-known, he used to go to hospital emergency rooms and do the helium voice for the nurse at the front desk, asking to speak to a doctor. He would claim he was at a birthday party and everyone else was inhaling helium, only everyone's voices went back to normal except his – and that was 2 weeks ago.
Finally they discussed "Deal or No Deal". The only country the show didn't do so well in is Israel. Howie said that's because no one in the Middle East wants to open suitcases packed by a third party. "Deal or No Deal" airs Mondays, Wednesday, and Fridays at 8:00 pm on NBC.
The second guest was Jim Gaffigan, who had 1 hour Comedy Central special airing Sunday night (April 30) at 10:00. Jim started off his standup routine by saying the viewer's thoughts in a high-pitched whisper - "Hmm, pink shirt – bold for a fat guy."
Jim is trying to be more responsible since he's a father now. He has a daughter who's 22 months and a son who's 4 months – both gay. He said having 2 kids under the age of 2 is exhausting ….. watching his wife do all that work.
Circumcision is a tough decision for a parent, since you're faced with the dilemma "Do you put your son under an enormous amount of unnecessary pain, or do you have a kid with an ugly penis?" In the Bible Abraham circumcised himself because God told him to do it. "Have you seen what people do when they cut their own hair?"
Jim also joked about how Abraham's wife must have reacted: "If God told you to jump off a bridge – if God told you to kill our firstborn, would you do it?" "Actually I have to talk to you about that last one..."
Next Jim showed the newest episode of his cartoon Pale Force. This was the third Pale Force cartoon to be shown on
Late Night
.
Pale Force is a cartoon about Jim Gaffigan and Conan O'Brien fighting crime with their paleness. Conan said he has not been thrilled in the past with how he comes across in these cartoons. Jim reassured him though, saying, "Wow – in this one you come across amazing." Jim does Conan & Jim's voices in the cartoon. This one also features Philip Seymour Hoffman. Jim said this episode was really Conan's breakthrough moment.
(
Download the newest installment of Pale Force
.)
At the beginning of the cartoon, Philip Seymour Hoffman disguised himself as Pale Man and slept with Lady Bronze, went around drinking, smoking, and spreading rumors about Conan in front of the children who idolize the real Pale Man to ruin Pale Man & Conan's image. The Legion of Pale did not realize this was an imposter so determined that they should punish Pale Man, and he should be banished to the shade cave forever.
Conan stopped the cartoon at that point, questioning how he looks better in this one, since there are rumors about him having gonorrhea in this one, etc. Conan said he'd be ok with the cartoons if they can just improve Conan's image. Jim explained that soon Philip Seymour Hoffman goes crazy and Conan comes across as a hero and saves the day, so Conan agreed to show the rest of the cartoon--
Conan met the imposter Pale Man outside the shade cave, and the real Pale Man escaped to save Conan from setting off a bomb that was supposed to annihilate Conan & Pale Man. To determine which one was the real Pale Man, Conan asked them to tell him something about himself that only the real Pale Man would know. They came up with things such as "you sleep in a diaper" and "you have a Bill O'Reilly doll". Some of the other things they said made me feel really bad for Conan!
After the cartoon ended, Conan was leaning back in his chair with his arms folded, and the only comment he had about the cartoon was, "I will call my lawyer in the morning." But it was all in good fun.
To close the show, the Goo Goo Dolls performed the song "Stay With You" from their new album "Let Love In".
--
conansgoddess / Amanda
Date: Friday, April 28, 2006
Guests: Paul Rudd, Robert Smigel, Chris Klein, Hawthorne Heights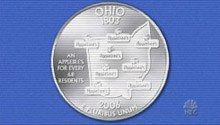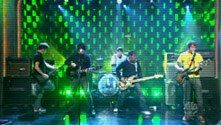 Tonight's show began as usual, with Conan's jump and spin. As the audience applauded, Conan proceeded to do the "I'm hot" finger-lick and touch thing. Also as usual, the show started off with Max and Conan sharing an awkward moment.
The monologue included the following topics:
- The controversy about the Star Spangled Banner being translated into
Spanish
- Hurricane Preparedness, with a quote from President Bush, "The first step we'll take is to pray that there aren't any hurricanes."
- Secretary of State Condoleezza Rice is currently the most popular member of the Bush administration.
- Finally, Katie Holmes is changing her first name to Kate because Katie is 'a little girl's name.' Conan then joked that Tom Cruise is changing his name to Boratron 3000, or some equally robotic name.
As Conan moved to the desk, he danced for the studio audience, off camera. He said that one night, he will dance for the entire show.
At the desk, Conan admitted he's bored talking to celebrities, so he decided to go into the audience and talk to a 'real person.' This 'real person' happened to be Fabio, and Fabio gave Conan a super-sized tub of I Can't Believe It's Not Butter. Conan then gave the tub to a lucky audience member. As usual, Conan's height helped him, making it easy to climb over the desk instead of walking around it.
A new installment in the "New State Quarters" series followed. The states profiled:
- Ohio: An Applebee's for every 6 residents.
- New Jersey: Visit for a week, regret it for a lifetime.
- Utah: Home of Mormonism, the only religion too weird for Tom Cruise.
- Pennsylvania: We're more modern than you think.
- Iowa: I can't remember the entire joke, but it had something to do with antidepressants.
- Florida: Where gators keep the Social Security costs down.
- Alabama: Church, a gun store and a firecracker shop all in the same mall!
- Indiana: Where the food pyramid includes lard, sausage, and butter.
- Missouri: Where your child's first words are 'Wal-Mart'
- Finally, New Mexico: Less diarrhea than Old Mexico.
After a commercial break, Paul Rudd, who was promoting his Broadway play "Three Days of Rain" sat down for a chat. He also brought his own mug, because he felt that the standard blue "Late Night" mug may not be clean. Paul then went on to talk about the premiere night of "Three Days" with a myriad of A-List celebrities. Knowing all those A-Listers were watching made Paul nervous, causing him to throw a prop completely offstage, which wasn't supposed to happen. Apparently, Paul likes showing skin in his acting roles. The interview finished with a "clip of the play" which happened to be random stock footage of an 80s movie (
Mac and Me
). "Three Days of Rain" is on Broadway from now until June 18th.
Robert Smigel was Conan's second guest tonight, promoting the Saturday Night Live special "The Best of TV Funhouse" airing Saturday, April 29. The interview started with a clip of a TV Funhouse "Fun With Real Audio" which featured a compilation of Bush speeches. Robert said that before editing, the special had a majority of men in underwear in the first 15 minutes of the special. The interview basically went on talking about TV Funhouse and a little bit of Robert's involvement in "Late Night" (he was Conan's first head writer).
Conan's third guest, Chris Klein, was promoting the new movie "American Dreamz." Before Conan could ask him a question, he asked Paul and Robert if they were doing ok, and asked Conan the same. Chris talked about how he has been in a lot of "American" movies, his football playing time in high school, and his involvement in his high school's jazz ensemble. He says he knows how to do a jazz square and wore the glittery vests and hats in the ensemble. His favorite song to perform was "Puttin' On The Ritz." Chris also said he likes to surf but is terrible at it. The interview went back to his work on "American Dreamz" and he said he enjoyed working with Hugh
Grant, although communicating was difficult. "American Dreamz" is in theaters now.
Finally, Conan's musical guest was Hawthorne Heights, a group from Dayton, OH promoting their latest album 'If Only You Were Lonely' with the song "Saying Sorry."
Conan ended the show as usual, with "Goodbye everybody, goodbye!"
-- xConanLurvex / Mallie
Date: Tuesday, May 2, 2006
Guests: Jeff Goldblum, Jodelle Ferland, Taking Back Sunday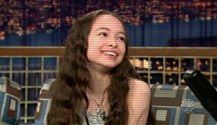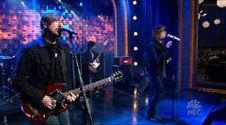 Tonight Conan welcomed actor Jeff Goldblum, actress Jodelle Ferland, and, musical guest Taking Back Sunday.
The show began with the classic spin-jump entrance but included a bonus slow-motion jog. Conan then jumped into the monologue. He began by telling about "a day without immigrants" or as Utah calls it: Monday. That joke ended with some more slow motion jogging. He then continued by informing us that tens of thousands of immigrants had gathered in NYC for the protest. This was the most immigrants since baseball spring training began. We then learned of Keith Richards falling out of a palm tree in Fiji and suffering a mild concussion. Doctors were amazed he was still alive, even before the fall. This spurred on a Keith Richards impersonation. In New Jersey, a mild form of bird flu was found. Health officials said it was hard to detect because in New Jersey, every bird coughs. This brought on a coughing bird impression (you'd have to have seen it). Next up was some Celine Dion news (cough). Celine Dion has been forced to cancel a week of concerts because of an ear infection. Doctors say it's not surprising because of the amount of Celine Dion singing she's exposed to. Next, we were informed of some entertainment news. Ford motor company is coming out with a reality show. Experts say the show will be beaten by a smaller, more efficient reality show from Japan. The monologue was ended by a solid Paris Hilton slam. Apparently, Paris announced that she has dropped her catchphrase "That's hot" in favor of "That's sexy." The new catchphrase narrowly beat out "That's herpes!"
At the desk, Conan announced that the show "Joey" was being released on May 30th. When an audience member found out that it wasn't being released on the
9th, he became hysterical and ran away screaming "Where's my kayak?!" Well, he found the kayak, and rode it off of a cliff. After this tragic event, the "wife" of the kayaker came out. Conan quickly realized that this was actually the kayaker dressed as an old woman and told him he was a horrible actor. The kayaker ran off while screaming "Where's my skateboard?" Once again, he fell off of a cliff. Next, a "little girl" walked out looking for her mommy and daddy. Conan realized that the "girl" was still the kayaker and told him he made a "creepy little girl". Disappointed that he doesn't make a sweet little girl, he runs away screaming, "Where's my house?" This time, the house falls down the cliff. That was in incredible waste of America's time.
Now it was time for something sweet - Kid's Drawings. The first was a picture of Tom-Kat's new baby saying its first words, which just happened to be "help me." Next was a drawing of Larry King's groupies waiting outside his dressing room. His groupies share an uncanny resemblance to the Grim Reaper. Next was a picture of Barry Bonds injecting "funny juice" into Conan. Then a picture of Dick Cheney getting his devil horns trimmed. After that came a drawing of a group of
kids unable to see Snoop Dogg through a cloud of smoke. A picture of Britney Spears leaving the studio with her baby on top of a cab was next, followed by Paris Hilton teaching children the "five W's": whore, whore, whore, whore and whore. Next was Stone Phillips with his robot parents, and then a picture of President Bush's head exploding after he found out that the show was taped in the afternoon. The final picture was of Clay Aiken announcing that he is straight. He was informing Conan of this while wearing a nice pair of leather chaps – ass-less, of course.
After the break, Jeff Goldblum was welcomed out. Jeff came out singing and was greeted by Conan with a complement on his outfit and new movie "Pittsburgh". Apparently, the movie features a cameo appearance by Conan himself. The film is based on Jeff's trip to Pittsburgh to appear in "The Music Man". Goldblum claims that it's a fictional story of his life. He says that it is basically about a nutty actor named Jeff Goldblum. Throughout this conversation, Goldblum was leaning towards Conan very erotically. Out of nowhere, Goldblum asked what kind of bird Conan would be if he had the chance. Without hesitation Conan replied by saying that he would be a hyperactive bird with red plumage. The bird would be kind of like a hummingbird, with the metabolism of a rat on cocaine. The interview continued with Goldblum leaning very close to Conan. He soon began to complement the intensity of Conan's eyes and pointed out that Conan forgot to shave a part of his upper lip. That's right, Goldblum just proved to America that Conan can grow body hair. After Goldblum was finished picking Conan apart, they talked about Goldblum's musical training. During this, Goldblum revealed to America that he thinks he is a little weird. He then demanded that Conan sing, because he has a very pretty voice. Conan then sang "Silent Night", getting higher and higher with each note. After this, Goldblum withdrew his claim that he was weird.
After the break, Jodelle Ferland was welcomed out. The eleven year old actress was promoting her new movie "Silent Hill". Right after she came out, Conan asked her about her light up shoes. This led to about 5 minutes of her laughing at them amusingly. Apparently she has 30 film credits - most in scary movies. Her explanation was people like to see cute little girls with creepy makeup. Conan then asked about the poster for the movie which was a picture of Jodelle without a mouth. She seemed to be a little creeped out about it, but who wouldn't be? Conan then asked about how she got into acting. She said she was influenced by her brother and sister when she was 2 years old and began repeating monologues. Her mother took notice of this, and the rest is history. According to Jodelle, playing evil is more fun than playing good which is way she loves doing scary movies. Conan agreed.
When the show returned, Taking Back Sunday preformed a song off of their album "Louder Now". At the end of the song, the lead singer gave something to Conan and hugged him as Conan threw to commercial.
--
_cant_explain_ / Caitlin
Date: Wednesday, May 3, 2006
Guests: Jeremy Piven, Jim Cramer, The Strokes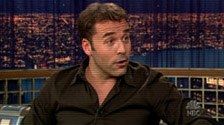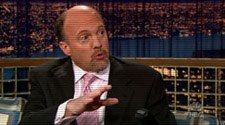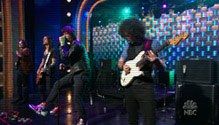 Conan came out saluting the audience and consulting Max on the state of the show before beginning the monologue. Tonight's highlights included jokes about Tom Cruise, Barry Bonds, planes, and Star Jones. Highlights: Tom Cruise was in NYC today and as a promotional stunt for MI2 he traveled around in a speed boat, fire truck and helicopter. He was forced to drive that way because no cab drivers wanted that wacko in their cab. This led to a wonderful Tom Cruise impression that consisted of laughing nervously and chomping his teeth. In sports news, Barry Bonds hit his 700th homerun needing only 2 more to tie Babe Ruth. He also only needs 2 more injections to tie Jose Canseco. A 1200 pound man is flying to Italy for a weight loss operation. This is great news for him, but horrible news for the person he is sitting with on the plane (try climbing over him to go to the bathroom). Rosie O'Donnell is joining "The View" and as a result Star Jones may leave. This is good news because how much eye candy can a person take? (Seriously, that is hot.).
"DUDE LOOKS LIKE A LADY" was played by the band leading to a Steven Tyler and Max Weinberg impression.
When at his desk, Conan invited a Chicago native to play a game with him. This guy translated common words into "Chicago speak". His translations were as follows:
Beer = Old style, Brautwurst = Braut, Soda = Pop, I55= Stevenson, Toll booth = Cash box, Directions to the theatre = Exit Randy, bag a louie till the bi…stop by the goat for a couple of cheeseburgers…pull short of the fishfarm. Yeah, it was interesting.
Now it was time to introduce new characters for the spring. First out was Octane the Rapper with Gasoline Bling. Next, the Geisha Goomba's, a combo of 1700's Japan and Brooklyn. Now, Mike Thompson the narcoleptic office clown (he rolled by sleeping on a copier with his pants down). Then, the ultimate ladies man, Dr. Love, came out. He claims that he can satisfy your needs 361 days a year (he has a time share in Maine). The next few characters included three illegal immigrants singing Zeppelin's "Immigrant Song" (stirring rendition), Darth Bargain the ruthless telemarketer, Leonard Newton, the guy that is deathly allergic to applause (with a daughter that was allergic to sympathy). Finally, a four stomach, four-teated punk rock cow.
After the break, Jeremy Pivot from the show "Entourage" was welcomed out. He & Conan talked about his catchphrase "Let's talk it out you little bitch". His rabbi has even caught on to the phrase. While he felt horrible about this, he felt even worse for what happened the day before. He was on "The View" and called Barbara a "little bitch" (I hear it was good television). Changing the subject completely, he talked about his trip to India for the Travel Channel. While there, he was put in a paper thong and rubbed with oil. What was it for? He doesn't know. Pivot was on the show promoting his new movie about the competitive world of Bar Mitzvahs. According to Conan, Bar Mitzvahs are similar to his favorite show "Sweet 16". The movie is "Keeping Up with the Steins".
After the break, Conan announced next week's guests. While this was happening the camera kept flashing to an audience member with incredibly attractive glasses. As Conan became more and more annoyed, sirens, Handel's "Messiah", and even Hall and Oates' "Private Eyes" began to play.
Next, the entertainingly obnoxious Jim Cramer came out and talked Wall Street gibberish. Conan mentioned his catchphrase, "BOOYAH!" This led to Cramer talking of how he "embraces the booyah." He also talked about his furniture-throwing habits. His main reason for throwing furniture is his hate for chairs.
Lastly, The Strokes preformed the song "You Only Live Once" from their latest album "First Impressions of Earth". It's a good album. Buy it.
--
_cant_explain_ / Caitlin
Date: Thursday, May 4, 2006
Guests: Tom Hanks, Wolfmother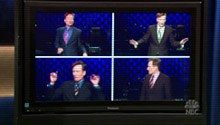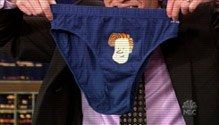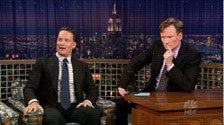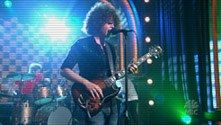 Conan began the show with his usual jump and spin, and then proceeded to blow kisses to the audience. His monologue consisted of jokes about:
- Barry Bonds' attempts at tying or breaking Babe Ruth's home run record.
- Former Secretary of State Madeline Albright and Kim Jong Il
- Donald Trump was among the guests at a showing of the Broadway play Julia Roberts is in.
This joke led to Conan doing his Trump impression while the MW7 played "The Apprentice" theme song.
- Mr. T is coming out with his own advice show for TV Land.
- Kelly Clarkson, American Idol winner, is the new spokeswoman for Ford Motors.
And finally
-Britney Spears apparently had to hire someone to "babysit" her husband, Kevin Federline.
Conan then commented on the musical guest's name, Wolfmother, and said he loves to say it. Then, going on that theme, he introduced the MW7 as "Max Weinberg and DogSkull", an equally harsh sounding name.
The desk bit followed the monologue and Conan commented that "Late Night" isn't promoted enough. He also commented that NBC primetime is 'in the toilet'. However, he realized that "Late Night" was getting more promotion, maybe not in the way he wanted, but promotion nonetheless. He apologized to NBC, and then showed a clip from Dateline's internet predator shows where "Late Night" was on the TV in the house as the predators were being caught.
Then, he switched gears and said that he truly does appreciate the fans. He then chose two lucky ladies from the audience named Pamela and Katrina to receive "Instant Audience Upgrades." These upgrades included:
- more comfortable, massaging seats
- expensive foods, like caviar, frozen margaritas, and Godiva chocolates (all mixed together)
- a sexier cameraman to look at
- Conan panties (with the cartoon Conan face on them)
- the option to choose a different TV show (which was 4 different episode of "Late Night") if they didn't like the show
- a small cameo by Jon Voight
- complimentary pedi-cab service with Abe Vigoda as the driver
- and finally, a sneak peek at Tom Hanks.
Conan then greeted the ladies with a kiss for each of them and a dance for them as the show went to commercial.
Tom Hanks then came on. He's promoting the new movie "The DaVinci Code." Through this part of his interview, he pronounced Conan's name wrong (Co-Nan), and Conan said that Regis Philbin still calls him Co-Nan, not Conan. They then talked about Tom's new hairstyle and Tom said that it looks like the Japanese Prime Minister's hair. This led to a quick conversation about Tarja Halonen, the female Finnish President that Conan looks like. Tom asked Conan if he minds looking like a woman, and Conan said no. Tom then said that he at least looks like another man, not a man looking like a woman. Tom then said that he got to meet the Prime Minister and wanted to give him a gift. Tom thought of giving the Prime Minister a Mickey Mouse watch, but the production staff of "The DaVinci Code" thought otherwise. The Prime Minister's gift was a copy of the book "The DaVinci Code" with Tom's autograph inside. They then talked about the idea that Tom looked angry at the Oscars when he came out to present. People believed that he was angry because they were playing the theme music from "Forrest Gump." Tom allayed the idea that he was angry. He wasn't angry at all! They had to take a commercial break, but Tom would be there after for more interview.
After the commercial break, Conan mentioned that people find Tom attractive. Tom appreciates the thought, but he doesn't believe it. He then talked about the fact that he has a good side and bad side of his face. He then had Conan find out which side is the good and bad side of his face with help from the audience. The audience boo-ed at the right side of Conan's face, and he was amused. Then the interview turned back into talking about "The DaVinci Code" and some of the locations they filmed in. One of the locations happened to be Paris, France and Tom rode a scooter to work while there. Tom then talked about his honeymoon with his wife of 18 years, Rita. They got pulled over that time, and Tom asked the police why they got pulled over, and the policeman said 'because I can.' The interview ended with Conan mentioning that Tom would be hosting
Saturday Night Live
for his 8th time on May 6. "The DaVinci Code" opens May 19th.
After the commercial break, Wolfmother came on to perform a song. They're promoting their self-titled debut album. Wolfmother is from Sydney, Australia. They had a performance in Dallas, Texas that coming weekend. Conan just could not get enough of their name.
After this, Conan ended the show with the usual "g-bye everybody g-bye" and bounced around in his chair a little.
-- xConanLurvex / Mallie
Date: Friday, May 5, 2006
Guests: Edward Norton, Izabel Goulart, Gene Pompa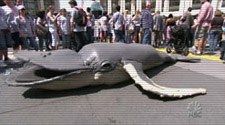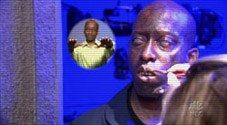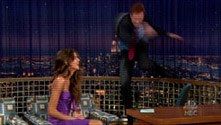 Tonight, Conan welcomed Edward Norton, Izabel Goulart, and Gene Pompa. In his monologue, Conan made jokes about President Bush, Cinco de Mayo, the Kennedys, Bill Gates, and David Blaine.
In Act I, we learned that in order to compete with David Blaine submerging himself in water for a week, a whale is spending a week out of water. Also, we followed Pierre Bernard on his day filming the 200th episode of
Stargate SG-1
, in which he played "Zombie
#2
." His adventure started in Vancouver, where he appeared on a radio show and was quizzed about the show
Stargate SG-1
. Then, he ventured over to the
Stargate
set, got into his zombie makeup, and showed his zombie walk to other cast members. We then saw Pierre practice his "lines" and how much trouble he had opening up the door he needed to open.
In Act II, Conan talked to Edward Norton. The two talked about how Mr. Norton took at year and a half break from acting, and how one night, Conan and his wife visited him after a play that he was in. Conan then said that Mr. Norton took a break from acting because of the fact that he visited Mr. Norton backstage at a play one night. They also talked about how Mr. Norton broke his back in China when he was thrown off of a horse, and how it actually helped him portray a character, an uptight British doctor.
In Act III, Conan spoke to an "audience member," who, in a thought bubble over his head, kept getting his thoughts mixed up, and Conan helped him think straight.
In Act IV, Conan talked to Izabel Goulart, a Brazilian supermodel for Victoria's Secret. They talked about Ms. Goulart's modeling experience and how she watches Conan every night while she goes to sleep (he makes her laugh in bed). Ms. Goulart shared the story about one of her first fashion shows, and how the top on her bikini was falling down, right in front of the photographers on the runway at the show. Ms. Goulart eventually said that the kind of guy that she was looking for was Conan, and he was very taken aback by this, especially because she called him pretty and did the typical Conan 'rowl' to him. His reaction was reminiscent of his reactions in the good old Rebecca Romijn days. Near the end of the interview, Conan tasted a bra from Victoria's Secret and also held it up to his chest. He then picked up the matching pair of panties, and couldn't tell the front from the back.
In Act V, Gene Pompa performed a stand-up routine to promote his new album,
Chicano to the Bone
.
-- CrazyforConan / Laura
---

Please email
stephwearsshades@aol.com
if you want to contribute one of the following things to our newsletter:


Fan story/experience (& pictures pertaining to Conan and/or Late Night)


Fan Art


Conan News you feel we'd benefit from hearing about


If you're interested in becoming an Episode Recapper (We're extremely understaffed in this department, ALL help is appreciated!)


Your application to become Fan of the Week (Look in the community userinfo for more information)
Also e-mail stephwearsshades@aol.com to get a weekly e-mail with a direct link to the newsletter if you don't have a LiveJournal or you don't check your friends' page often.
---


*Euuuge thank you to
conanincharge,
_cant_explain_, CrazyforConan, and xConanLurvex for the recaps!
*Episode recap screen caps provided by http://www.latenighttorrents.com/forum/
*Compiled and edited by
conansgoddess
---
Feel free to comment/make suggestions.